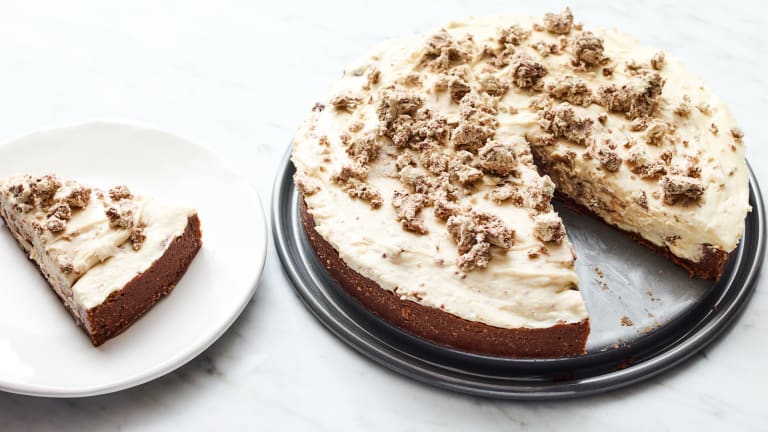 No Bake Cheesecake Recipes
Classic cheesecake with all the cream and eggs is really nice, but sometimes you want a dessert that doesn't need to use oven space.   No-bake cheesecake to the rescue!  Truthfully lots of people prefer this kind of cheesecake, not only is it easy but you can make them with all your favorite flavors.  
Peanut Butter Chocolate Cheesecake
If you like a peanut butter cup you will like this cheesecake and it is so easy to make.  It is best made with a hand or stand mixer, but you can work to make it by hand and it can be kept in the freezer as long as you like.  This one can be made as pictured in one large tart pan or a springform pan or make it muffin cups for mini peanut butter cup cheesecakes. 
If you prefer a more simple flavor and don't want chocolate, try this key lime pie cheesecake or this Pumpkin Pie Cheesecake.   
No-Bake Chocolate Halva Cheesecake
This version of no-bake cheesecake uses halva for that classic Israeli flavor of tahini all throughout and top of this dessert. 
Cheesecake is a delicious end to any Shavuot meal, but sometimes there is just no time to prepare, bake, and cool a cheesecake. This strawberry cheesecake is so quick to prepare, it only takes a few store-bought ingredients mixed together and tastes like it took hours! Making them in individual portions will really impress your guests. Serve this with freshly sliced strawberries and chocolate sauce to really take your presentation to the next level!  
This is more of an ice cream cake with some cream cheese and the classic graham cracker crust, so if you like cheesecake and ice cream cake you can have both in one no-bake dessert. 
Simple and classic, this oreo cheesecake is a favorite. 
Chocolate Orange Coeur A La Creme 
This naturally gluten free, crustless cheesecake is another winner, made in ramekins and set in the fridge. 
Lemon and Blueberry Cashew Cheesecake
There are even ways to make no-bake cheesecakes without any dairy.  I know they aren't really cheesecake because there is no cheese, but they sure taste like it. This one is made with soaked cashews. This one is also gluten free.
This one is made with vegan cream cheese and layered in a glass and meant to be healthier and lower in calories, you might be able to eat this one for breakfast. 
All these no bake cheesecake will satisfy everyone's sweet tooth and save your oven space for the lasagnas, baked zitis, quiches, and more.
What is your favorite flavor of cheesecake?