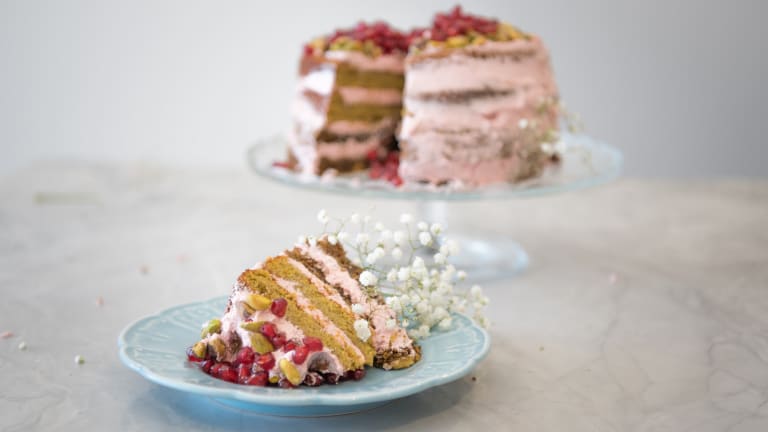 24 Days Until Passover- Nuts For Nut-Based Passover Cuisine
Every household has their own definition of family tradition on the holidays. For me, this is manifested in the usage of nuts every which way. I wanted to explore the idea of taking familiar family recipes and modernize them with my love for nuts, yet still keep them classic.
As the grocery aisles fill up with Passover goods, any consumer will see a vast array of nuts on display. For a home cook who doesn't use nuts on an everyday basis, this can be overwhelming. In my household, nuts are prevalent in almost every dish.
Nuts are a funny thing. Often recommended by nutritionists as a healthy snack, I constantly hear the complaint that they are fattening! Well, then it would make sense that a serving size is just 12 oz.- which is 12 almonds, or 1 tablespoon, which is the professional recommended size. My advice would be not to buy the salted variety, (as those are addictive not in a hyperbolic way!) and not to eat them straight from the jar, can, or bag. Pour your serving into a cup and enjoy!   
Here are my tips to keep your pantry organized, and your food flavourful, with nuts as a shining star.   
My Fave Nuts and Why:
1. Walnuts: High in omega-3s and alpha linolenic acid, walnuts are a superfood and one of the most nutritious nuts. Eating walnuts can reduce LDL and help with diabetes.
Try: Toasted for a salad (see Walnut Croutons below), or blended with oil, salt, garlic and parsley as a parsley-walnut pesto.
2. Almonds: Almonds are high in protein, zinc, and calcium, and a great source of vitamin E. One serving is only 81 calories.
Try: Grouund for neutral tasting flour, or thrown into a smoothie for extra punch of nutrition. I prefer using slivered almonds to top a salad, as they provide a more satisfying textural component.
3. Pecans: Zinc, vitamin E, vitamin A are only a part of what these tasty nuts provide. Pecans are loved by many, as they are commonly sweetened for desserts, and when toasted, their natural sweetness is greatly amplified.
Try: Tossed with sugar, cinnamon, and oil and then heated in a hot skillet for 5-10 minutes for easy candied pecans you can enjoy as a snack or send as a gift, or even blended with oil, salt, and cumin and crumbled over a salad.
Ways to Buy, Store, and Love Nuts:
1. Buy nuts as fresh as possible and in small amounts that you believe you will use up quickly. Because of their high oil content, nuts can go rancid very easily. If possible, buy in bulk so that (with the owner's permission) you can test before buying. On Passover, that poses more of an issue, as most stores do not have a bulk section that is kosher for Passover. In this case, just make sure to store them in your fridge or freezer in a tightly sealed container, to maintain freshness. Nuts should last 9-12 months when stored this way.
2. Buy raw, unsalted nuts whenever possible. Roasted nuts often decompose fasters, and salt easily conceals rancidity. High sodium in salted nuts increases blood pressure. If you prefer the taste of roasted nuts- heat up your oven to 350°F and roast 15-20 minutes.
I think what makes nuts such an integral part of our Passover cooking, is that their flavours are versatile and their texture is adaptable. Keep them in their natural state, and you have elevated your dish. Blend them up, and you have perfectly good flour. Add savory seasoning, or sweet seasoning , and their chameleon-like flavour can take you in whichever direction you want your dish to go!
I hope you enjoy the variety of recipes I have prepared for you, and that nuts, too, can become part of your Passover traditions.
MORE: Passover Dessert Ingredients and How to Use Them
Nuts for Passover Savory Dishes
ENDIVE SALAD WITH BEETS, RADISHES, CITRUS AND TOASTED CINNAMON HAZELNUTS
I would say by now, the salads that are instinctive for me to make all have a very similar feel- the use of citrus appears almost always, and some sort of raw root vegetable often comes along for the ride. Topped with a finishing herb, toasted nut, and the simplest of dressings, they are usually just variations of each other. It is the constant success of the marriage of these flavours that keep myself, my friends and my family, constantly preparing it again and again. Come see for yourself!    
ROASTED ROOT VEGETABLE SOUP WITH WALNUT "CROUTONS" AND CRISPY PARSLEY
This soup is my favorite because it combines the earthiness and sweetness of root vegetables with an unexpected spiciness from the cayenne. The herbs add another dimension, and the sweet and spicy walnut "croutons" elevate it from a classic bisque to a multi textured soup worthy of any Pesach table!    
PECAN CRUSTED MAPLE-MUSTARD SALMON WITH SHAVED ASPARAGUS, NECTARINE, AND MINT SALAD
This dish combines something for every palette: The sweetness of the maple marinade, the barbecue flavours of the pecan blend, and the springy salad. Feel free to add your own twist on plating.    
MORE: Start Your Passover Shopping With These Tips
 Nuts for Passover Desserts
CHOCOLATE LAVA CAKE WITH WARM ALMOND BUTTER CENTER
 A rich and fluffy chocolate cake filled with creamy almond butter makes for a warming Passover dessert. Classic is best.    
Don't say I didn't warn you- you will NOT be able to have just one. In creating this recipe, let's just say I made many, many new and good friends. 
PISTACHIO CARDAMOM CAKE WITH LEMON POMEGRANATE BUTTERCREAM
Ground pistachios are used in place of flour, providing a cake seasoned with warming spices and a sweet-tart filling, naturally colored with pomegranate juice. This is definitely not your Bubby's dessert!    
Photography courtesy of Chani Edell
MORE: The Perfect Pistachio
Want stories like this delivered right to your inbox? Sign up now for our *free* JOY of KOSHER Newsletter.