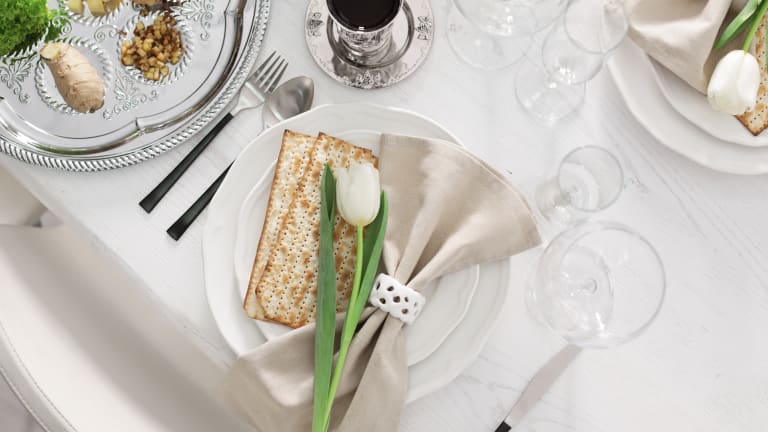 Our Perfect Pesach Primer
Pesach is just around the corner – no matter how far in advance (or how last minute) we start the planning and preparation, we are always ready on time. Whether it's a steady jog or a sprint to the finish line – we all get there.  If making seder for the first time or even the tenth time, there is still so much to cross off the to-do list – but we are here to help.
Below are links to our Pesach posts, designed to make this holiday so much easier on you – wouldn't it be nice to ease into Pesach without panic? Bookmark this page for next year and the year after – and free yourself from Pesach stress.
This post is everything you need to prep for the seder.  You won't miss a thing with this guide. 
The Best Pareve Passover Desserts
We have so many Passover Desserts on this site, some with dairy, some without, some that freeze well, some that are best made fresh, some old favorites, some new and inspired. Some quick and easy and some that take a little more time and effort.  These are 25 favorite dairy-free desserts for Passover. 
These are the best simple dinners for the days leading up to Passover.  The period of time when your kitchen is kosher for Pesach, but you can't eat matzo.  They're also good for the week of Passover too!
During Pesach one of the most popular go-to easy recipes is matzo pizza.  No slinging of dough, just simple matzo with all the toppings you love. We have a recipe for every day from simple to gourmet. 
Free Yourself with Two Perfect Passover Seder Menus
You can browse through all the Passover Seder Recipes on our site and compile your own menu, but if you want a few menu ideas all laid out and ready to go, this is for you!
Old World Charosis Gets a Hip Makeover
Because charoset is one of the stars of Pesach, it is the one seder plate ingredient that we can really get creative with and we have.  Ronnie Fein thinks outside the box with her new charoset recipes including nut-free charoset recipes, but we also have traditional charoset recipes from around the world in our Charoset Collection. 

Because everyone's always looking for a new side dish for Passover, check these out. 
The Four Questions for a Frugal Passover
Get these tips to have a more frugal, budget-friendly Passover. 
Ten Essentials for my Passover Kitchen
If you're trying to figure out what you really need to stock your Passover kitchen this is your list. 
Egg Whites 101: How To Make Meringue 
Master the egg white and your Passover desserts will be super delicious.  From simple meringue cookies to elaborate cakes your dessert table will look glamorous. 
Get your quinoa groove on with tons of flavorful recipes, enjoy the benefits of healthy fiber and whole grains and something that isn't a potato. 
36 Make-Ahead and Freeze Passover Recipes
When you're ready to cook, make these recipes ahead and you can stock your freezer.  
For those plant-based eaters out there we have one for you too!  We have vegan mains to celebrate the holiday. 
Check back every day for more Pesach articles on our site. Chag Sameach.