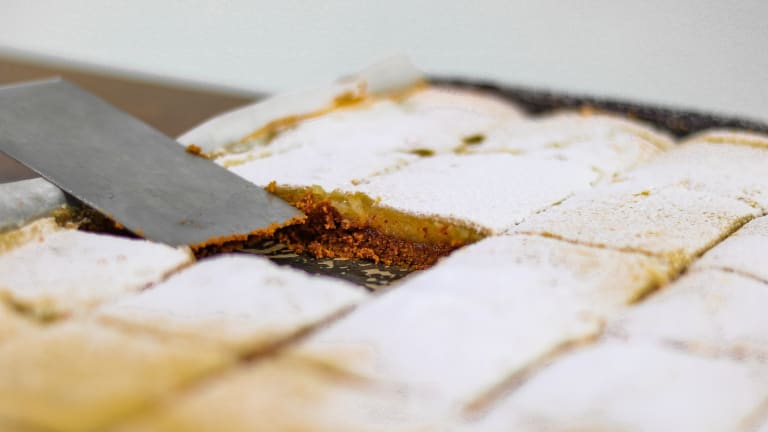 Parve Passover Dessert Recipes
There is something to be said for tradition. I find it comforting that every year as Passover approaches I know with pretty good certainty what we are going to be serving at the seder. Sure we might swap a kugel here or a green vegetable there, but the majority of the menu stays constant from year to year. I am all in favor of experimenting with new twists on the classics, but for the seders, I like to keep things traditional. The one exception is dessert. Every year the dessert is different. Dessert is where I can express my creativity without anyone being upset that we went against tradition. For our family a different dessert each year is the tradition.
In our house, the biggest insult a person can give a dessert is to say "it tastes like Pesach". That is not saying that all Passover desserts are bad, but they certainly are not all good either. In my opinion, there should be no reason to sacrifice good taste when it comes to dessert, even on Passover. If it isn't good enough to serve year-round I don't want to serve it on Passover either. While there are the classic go-to standards, like flourless cakes and chocolate mousse, I like to mix things up a bit and serve desserts that are a bit more unusual.
Chocolate Raspberry Baked Alaska
This Chocolate Raspberry Baked Alaska takes advantage of one of the key differences between Shabbat and holidays. While on Shabbat all the food needs to be prepared before sunset, on holidays it is permitted to cook as long as the flame is transferred from a preexisting flame. This makes it possible to serve desserts that require last minute cooking, an impossibility on Shabbat. However, no one wants to be stuck in the kitchen fussing over dessert in the middle of a hectic seder or company meal so this dessert is the perfect compromise. All the elements of this showstopping dessert are made ahead and kept in the freezer. All it needs is a quick trip under the broiler and it is ready to serve. The combination of chocolate and raspberry (with a bit of amaretto thrown in for good measure) makes this not only a beautiful dessert but a very tasty one as well.
Another great make-ahead dessert is this Coconut Panna Cotta with Lime Curd
In my experience, people are often too full after a big Passover meal to eat a large heavy dessert (though that rarely seems to stop anyone from eating it). This panna cotta is rich and delicious without being too heavy. The brightness of the lime is the perfect complement to the coconut, and the creaminess of the coconut rivals that of any dairy panna cotta.
Almond Butter and Jelly Sandwich Cookies
While it is fun to make plated desserts for seders, I am also fond of serving a simple assorted cookie platter to go with the requisite jellied fruit slices and pesach chocolates. These cookies are sure to bring a smile to peoples' faces. A play on the classic peanut butter and jelly sandwich, these Almond Butter and Jelly Sandwich Cookies are made with almond butter and sandwiched with berry jam. These are quick and easy to make and are a great treat to have on hand throughout the week (and year round).
Whether making these desserts for a big seder meal or just for family they are sure to be a hit. They are truly a manifestation of the sweetness of freedom rather than the bitterness of slavery, and that is exactly what a dessert should be.
With all of the packaged Passover cakes and cookies sitting in the grocery store aisles weeks before the holiday starts it is no surprise that many a store-bought Passover cake tastes more like the cardboard it is packaged in than like a delicious dessert.  Sure, they are convenient, but as someone who strongly believes that dessert is not worth eating unless it is truly delicious, to me they are just not an option. Instead I use Pesach as the perfect opportunity to make homemade desserts that would be welcome on the table anytime of year. It isn't enough for them to be "good for Pesach". They have to be good period. The key is using quality ingredients and finding appropriate substitutions for ingredients like flour that can't be used on Pesach.
Some of the most common ingredients in Passover cooking are nuts. It is truly amazing how many pounds of nuts we go through on Passover, between the charoset, mock chopped liver and all the desserts. Finely ground nuts make up the base for all kinds of flourless cakes and nut butters are a quick and easy way to whip up a batch of last minute cookies. (Like these Almond Butter and Jelly ones)  This Honey Nut Tart brings the nuts out of the background and puts them center stage. It has the texture of a pecan pie but instead of just pecans the filling is made up of walnuts and pecans suspended in an orange scented honey custard. It is a delicious combination that is sure to have people coming back for "just one more sliver".
With all the heavy food on Passover it is sometimes nice to have a lighter dessert. This Lemon Mouse is light and refreshing. Made up of a butter-less lemon curd lightened only with egg whites the pure lemon flavor really shines through. It is delicious served chilled but is also tasty served frozen. It would be a great dessert to serve after the seder along with an assortment of cookies and Pesach candy.
With the many varieties of candy available for Passover it might seem silly to take the time to make homemade candy, but there is nothing like some homemade Raspberry Truffles to round out a cookie platter. These truffles use raspberry puree as the base and pack an intense punch of chocolate and raspberry flavor. Be sure to use good quality chocolate, the kind sold for eating rather than baking, because the flavor of the chocolate is what makes these truffles stand out.
Whether making treats for a few friends or for a huge crowd these delicious homemade desserts make Passover a time where we can truly celebrate just how sweet freedom really can be.
MORE DESSERT COMPILATIONS YOU MIGHT ENJOY:
PASSOVER DESSERTS THAT FREEZE WELL
DAIRY FREE AND NUT FREE DESSERTS
Now browse through some more delicious desserts you will want to make this Passover.