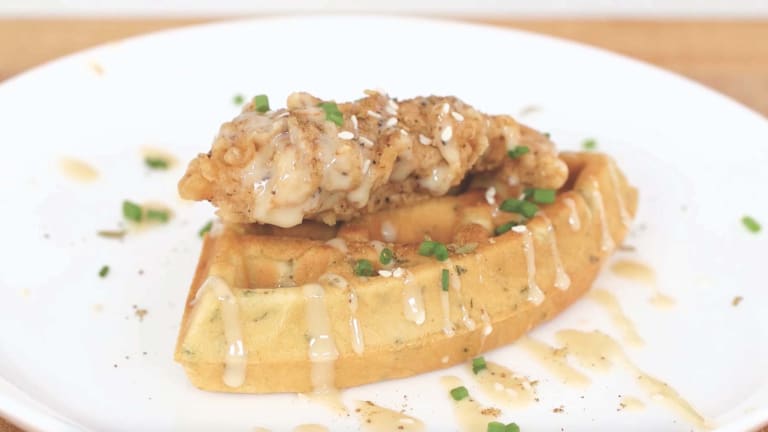 Purim Seudah Brunch Menu
This year Purim will start on Thursday night and run through until Shabbat.  Usually the Purim Seudah, the festive meal starts during the day, but it is customary for it to run into the night.  However, when it falls on a Friday the meal is held in the morning so that it can end with plenty of time before Shabbat.  Read more about the laws and customs of Purim. 
Like most festive meals it is customary to eat meat, but since it will be served earlier in the day this year we thought brunch was in order. Let's celebrate Purim this year with a tasty meat brunch starting with Mimosas. 
Say L'chaim with a champagne cocktail.  It's a great way to start any brunch. 
Use kosher bacon or pastrami to make these yummy egg cups. If you're looking for more ways to use Kosher Bacon, get our FREE Kosher Bacon 101 Ebook. 
Waffles are the best brunch recipe, this version changes it up for a savory version served alongside the fried chicken.  Everyone will love this dish.  Matching costume idea: Check out Number 16 from our 20 Awesome Family Costume Ideas. 
Kale Caesar with Garlic Rosemary Pecan Croutons
Serve a nice creamy caesar on the side with some spiced up pecans. 
Since your making challah for shabbat, save some dough for these sticky buns shaped into triangles or as close as you can get to triangles for a brunchy dessert. 
If you'd prefer a dairy brunch menu check out this Vegetarian Tapas Menu.