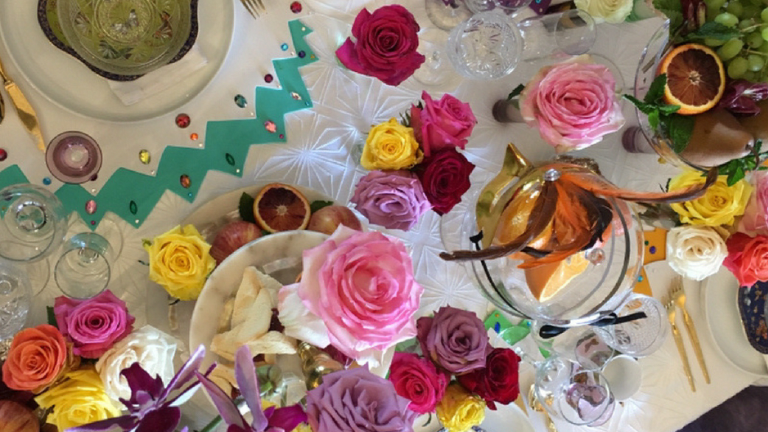 Purim Tablescape
My son often reminds me that there are more colors in the rainbow besides black and white, because those are my favorite colors. But even for me, when it comes to Purim, my table needs to be an explosion of color. It has to feel rich, vibrant and luxurious. My goal is to show no restraint and bring out all the stops.  
 My top 5 tips for an incredible Purim tablescape:
1. In the "event" world, place-mats are high on trend. Place-mats can be layered over linens to create added texture and dimension to your table. The "crown" place-mats on my table I created out of flexible foam paper. It's the perfect DIY project to make with your children. Just cut into the crown shape with a scissor and hot glue your favorite jewels.
2. You can never have too many glasses. It adds so much shimmer to your table. My pet peeve is not using what you have. Don't save those champagne glasses for your wedding anniversary. Use them now and enjoy it! On my table I have a water glass, wine glass, champagne glass, l'chaim glass and tea cup….*I'll throw in a bonus tip. Prepare a signature Purim cocktail and have it preset in one of the glasses. 
CLICK HERE FOR 18 WAYS TO SAY L'CHAIM
3. This table needs to be a feast for royals… IRONED cloth napkins are a must!
4. There are never too many flowers! Buy one variety and get tons of it. I used mini shot glasses and stem-less champagne glasses as bud vases. Cut the flowers short and cluster them together. Viola. 
5. Think dessert table. Gather all your pedestal cake plates and beautiful small bowls and go for it. Display what you are planning on serving anyways… Desserts, fruits, nuts.
Now the tables are turned, and its your turn to impress. Lets see what you got!
Wishing you all a beautiful, indulgent and inspiring holiday.