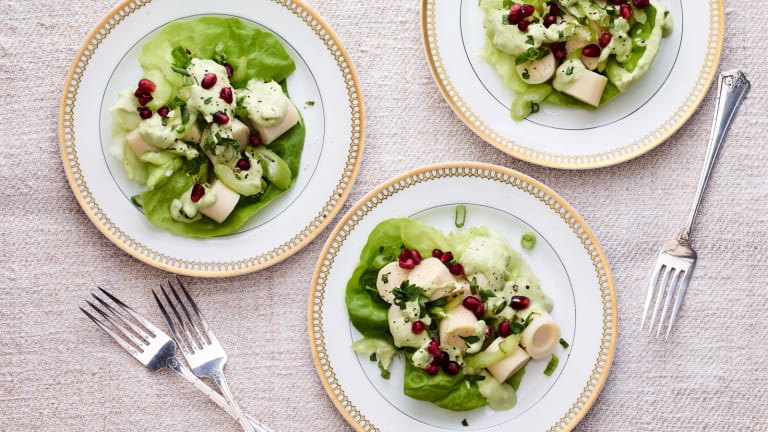 Quick and Healthy Shabbat Menu
In this week's parsha, Moses and Aaron come before Pharaoh and demand their freedom. Amid signs and wonders, Pharaoh will not acknowledge the sovereignty of any power other than his own. The Torah recounts that "the heart of Pharaoh was hardened and he would not let the children of Israel go." I love this idea of Pharaoh's hardened heart, refusing to relent as the entire world around him is turned upside down and inside out. This week we highlight our own hardened hearts with a hearts of palm recipe– much easier to swallow, just a few minutes to make and absolutely delicious!
HEARTS OF PALM SALAD WITH AVOCADO DRESSING
Serve this salad in lettuce cups for a fancy presentation.  Don't you just love all the colors.   It is quick to make and healthy to boot. 
BALSAMIC ROASTED CHICKEN BREASTS
A simple chicken breast is the perfect main for this quick and healthy Shabbat dinner. 
ROASTED ROOTS WITH ROMESCO SAUCE
You don't have to make the romesco if you don't want to, the simply roasted root vegetables are filling and delicious on their own, you can use anything you have in the fridge.  I like to add some chestnuts in the Winter, make it your own. 
BAKED PEAR PARCELS WITH LEMON SAUCE
This one is a little more difficult, so feel free to make them easy and leave out the dough, baked pears are delicious on their own, but I love the lemon chamomile sauce.  Perfect for a winter dessert. 
For last year's Parsha Va'eira Menu click here.