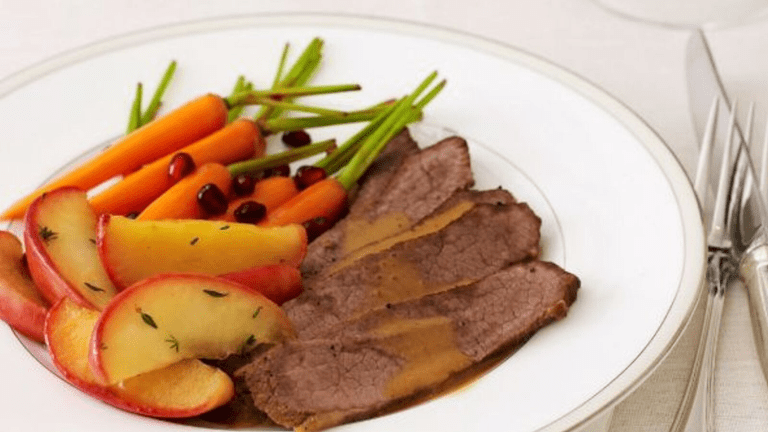 Quick Prep Rosh Hashanah Recipes
One of my absolute most favorite go-to kitchen staples for quick cooking meals in minutes is broth - especially around the holidays, when I don't want to feel like I am cooking around the clock (even if I am!). I always have about a case of Vegetable and Beef Broth in my kitchen cupboard. Yes, a case, of each. I kinda love to stock up on the things that I love.
Another thing I just love for the holidays and especially Rosh Hashanah is cooking with simanim. It's so totally my jam, my signature, my high holiday Jewish New Year thing. 
Simanim – literally signs or indicators – are meant to point the way to improved circumstances. The most famous siman – 
while the seeds of a pomegranate suggest our desire to maximize our "merits" and a bite (or more) of fish reveals our aspiration to maximize and build our Jewish families (we want to be fruitful and multiply like fish ). 
Other simanim include beets, black eyed peas, cabbage, carrots, dates, gourds, leeks, spinach, a sheep's head (OMG – yes I just said a sheep's head!) and more.
These recipes are simanim inspired but quick to prep thanks to my handy dandy sous chef, aka Mani Broth. For the sheep's head though, you're on your own folks!
Start things off right with a sweet bite of Apple and Honey Stuffed Challah Rolls. Challahs should be round this time of year symbolizing the continuity of creation.
Serve up a steaming bowl of Creamy Coconut Carrot Soup or Carrot, Quinoa and Spinach Soup coupled with a wish for more merits and mitzvos (carrots).
Or try my Apple and Parsnip Soup to revive our memory of Biblical blessings (apples). According to the Vilna Gaon (an 18th century famed rabbinic scholar and one of the most influential Jewish leaders in modern history), Yitzchak/Isaac blessed Yaakov/Jacob on Rosh Hashanah. We eat apples (tons of them) because we too want those holy blessings.
Present a platter of Date and Honey Glazed Chicken Thighs alongside Whole Wheat Stuffing with Leeks coupled with a plea to rid ourselves of our enemies.
Or swap out the Date and Honey Glazed Chicken Thighs for Chicken with Sautéed Apples and Fennel
My Best Briskets for the Holidays are:
Roasted Apple Brisket
Garlic Honey Brisket
Pomegranate Braised Brisket
And don't forget to order my Brisket 101 Cookbook to master brisket once and for all. 
My favorite simanim inspired Rosh Hashanah sides and salads include:
Black Eyed Peas with Green Beans
Pomegranate Glazed Carrots
Roasted Beets and Sweets (totally YUM with deboned Orange Chicken Thighs!)
Spinach Noodle Kugel
Simanim Salad with Pomegranate Balsamic Dressing
Wild Rice with Carrots and Beets
Spicy Sautéed Leeks and Spinach
Sweet Noodle Kugel with Dried Fruit
By now I am sure you are ready for dessert. In the apple family I recommend:
Apple and Cardamom Tart
Deconstructed Apple Pie
Applesauce Cake
Or try a Cute Carrot Cupcake
Or make it really easy on yourself (after all this you deserve it) with Chocolate Cake and Pomegranate Swirl Ice Cream.
Best Wishes for a HAPPY SWEET NEW YEAR and a K'TIVA V'CHATIMA TOVA: May you be inscribed and sealed (in the Book of Life) for a good year!