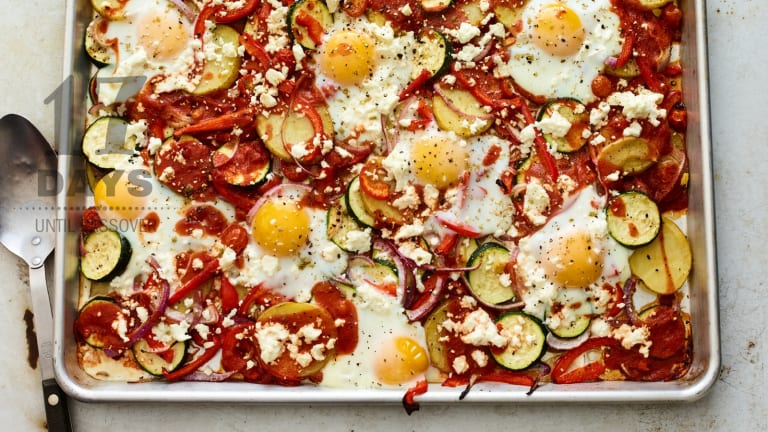 17 Days Until Passover: What To Eat After Your Kitchen is Kashered
Your house is cleaned, your ready to go, your menus are planned and tacked to the fridge, cause you're cooking for Passover, but you still need to get dinner on the table and can't have matzo pizza. 
Introducing our favorite sheet pan dinners from around the web, gluten free, easy to make and little to clean.  
Anyone can make up a good sheet pan meal, just combine a few things that roast well, like chicken, steak or fish with a mix of light and starchy veggies and voila.  Here are a few recipes to get you started, but feel free to veer off the path and use what you have. 
Consider crustless quiche, quinoa bowls topped with sheet pan fixings, cauliflower steaks, sausage and peppers, 
A more filling shakshuka with lots of veggies and potatoes sliced thin and topped with eggs for a filling complete meal. 
Stick with the basic recipe and use lettuce leaves to wrap them up instead of the tortillas. 
Mix up a bunch of veggies on a pan like a hash and throw in some eggs, you really can't go wrong. 
SHEET PAN RANCH CHICKEN AND VEG
Chicken on the bone works too, mix with spices and veggies and dinner is served. 
Leave out the green beans and mustard powder if you don't eat kitniyot, but this simple fish dinner will be a crowd pleaser. 
We love the flavor the shiitakes bring to this dish, when mushrooms are roasted they are perfection. 
What is your favorite sheet pan dinner? Let us know in the comments below. 
Want more recipes delivered straight to your inbox? Sign up now for the JOY of KOSHER weekly newsletter.