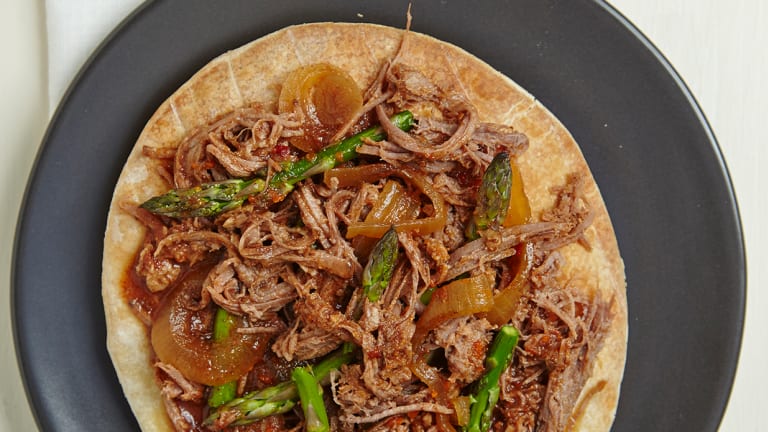 Re-purpose Your Pulled Brisket Leftovers with These 3 Mouthwatering Recipes
As we move into colder weather, I am reminded of an old Japanese proverb that says "One kind word can warm three winter months." I'm of the opinion that a fantastic winter meal can do just the same. This edition of "triple play" focuses on good, warm, comfort food with an added bonus. It's made using a slow cooker, so you can put it up in the morning and basically forget about it all day! There is nothing like coming in from the cold after a long day to find a warm ready-to-eat meal. If you are lucky enough to be at home while this meal cooks, the smells are absolutely tantalizing! 
The focus of this dinner is a mouthwatering brisket with many layers of flavors. Magic happens when the meat is rubbed with the perfect blend of spices and then cooked all day in a special sauce. As always, it's one preparation and then some creative tweaking of the presentation to please children, teens, and adults; and best of all one dish creates three separate dinners. 
Use this concept as a make-in-advance guide. Double the brisket recipe and follow the guidelines in this article to create three delectable dinners: 
Pulled Brisket Bowtie Pasta
Pulled Brisket Pizza
Pulled Brisket Burger
That's it! Three delicious meals for three very different palates or three different dinners! Is it just me, or is it feeling a lot warmer outside now?Enjoy!
WATCH: Become a Brisket Expert
Start with this Pulled Brisket recipe, and then get creative with the options below!
Serve shredded beef with a side of the bowtie pasta. The healthy eaters can try some of the sautéed grape tomatoes and asparagus. After slow cooking, this meat is so soft and flavorful. The little ones just love it!  
MORE: 8 More Ideas for Brisket Leftovers
When it comes to teens, pizza is often one of their major food groups. According to my nephews, so is beef. What could be more perfect than a pulled beef pizza!
MORE: Jamie's Secret to Making the BEST Brisket
Served alongside bowtie pasta with asparagus and grape tomatoes. The brightness of the vegetables in this light pasta dish really elevates and balances the dinner.
MORE: Recipe for Leftover Brisket
Leftovers? Try some of these incredible ideas: 
1. Meat knishes: Stuff some shredded meat and sliced cabbage into puff pastry squares. Bake at 400 degrees for 25 min-utes. Freezes well.
2.Meat Caesar Salad: Top meat onto favorite non-dairy Caesar salad recipe.
3. Stuff into taco shells: Top with sliced tomato, avocado, and pareve sour cream.
4. Beef eggrolls: Mix 1 cup shredded meat with 2 diced scallions and ¼ cup shredded carrots. Place a large spoonful in center of eggroll wrapper. Wrap well. Fry until golden. Serve with extra sauce from the meat on the side. 
5. Shepherd's pie: Place 4 cups of shredded meat with 1 cup of sauce in 9-inch baking dish. Peel and cube 5 Yukon Gold potatoes and boil until tender. Drain. Mash and add 1 tablespoon margarine, 2 tablespoons almond milk, 1 teaspoon salt and a pinch of black pepper. Spread on top of meat and bake until potatoes are golden. 
MORE: Cooking Brisket- Low and Slow
Recipe originally published in Joy of Kosher with Jamie Geller Magazine Winter 2014 Subscribe Now
 Want stories like this delivered right to your inbox? Sign up now for our *free* JOY of KOSHER Newsletter.