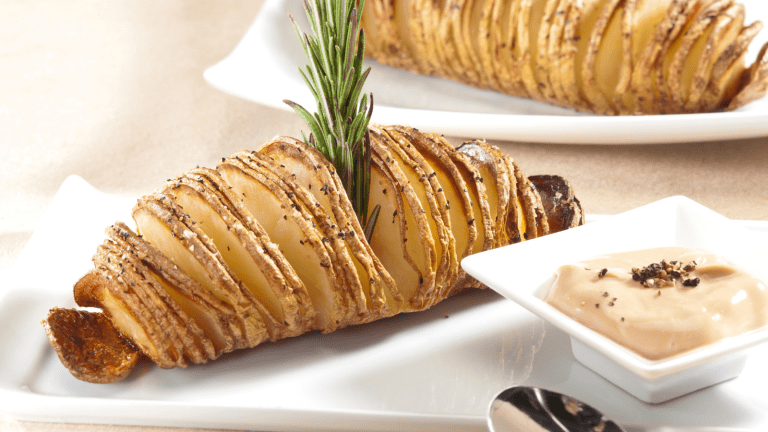 Refreshed! Chol Hamoed Dinners
After days of heavy yom tov eating, our stomachs and taste buds are likely craving lighter fare. These wholesome dairy, pareve, and meat options offer a refreshing change of pace—and are easy to prepare after a busy day.
These eggplant parmesan stacks are both delicious, and visually appealing
Marinara Sauce
This marinara sauce is very versatile, and can be used in a variety of Pesach dishes.
A perfectly light, but filling salad, to compliment any dairy meal.
Pesach Crumbs
Try these, and you will forget that they are Pesachdig! Make extra, as you will want to use these crumbs for shnitzel and other Pesach specialties.
A deliciously filling dinner salad that can be prepared in just a few minutes. As with all my other Pesach recipes, the salt amounts listed are for kosher salt only. If you are using regular iodized table salt, please make sure to reduce the salt amounts.
Hasselback Potatoes with Balsamic Mayonnaise Dipping Sauce
These potatoes turn out crisp on the outside, and perfectly tender on the inside. Break off the crisps and dip them into balsamic mayonnaise dipping sauce for a really delicious experience.
Really simple to prepare, but oh so tasty.
Most commonly considered a grain, quinoa is actually a relative of leafy green vegetables like spinach and Swiss chard. Perfect for Pesach, quinoa is protein rich, has a fluffy, creamy, slightly crunchy texture, and a somewhat nutty flavor when cooked. Quinoa is available at your local health food store. Get more quinoa recipes for Passover here.