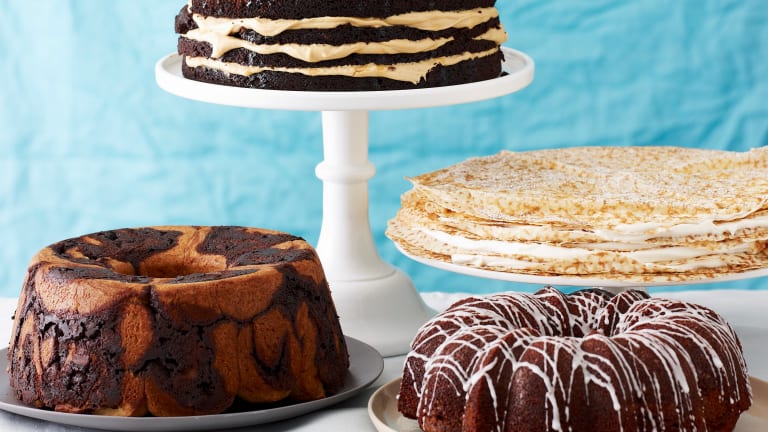 Room for Dessert - 9 Rosh Hashanah Cakes
Holiday cake recipes that step out of the box.
When these cakes grace your table for the final course, those last bites will certainly be the sweetest!
From layer cakes to bundt cakes you will find 9 non-dairy cakes worthy of celebrating the new year with you. Try an easy one or test yourself with a fondant covered cake, no matter what you decide the results will be delicious. 
Everyone loves chocolate babka. Here is a way to make it look more like an elegant cake, but still have the soft and gooey experience of traditional babka.
Red Velvet Cake is a recent addition to kosher tables and probably has increased in popularity due to the prevalence of red velvet cupcakes in cupcake shops. It tastes like chocolate cake but not a very chocolaty one.
The French call this a "mille crêpe," implying that it has a thousand layers, like a "mille feuille," the French name for the Napoleon dessert. Don't worry: you will only have to make about 25 crêpes, but that will take some time. This cake has a velvety-smooth texture, and is definitely worth the time and effort. I like to make the crêpes and pastry cream one day, and then assemble the cake the next. If you do not like coffee flavor, you can omit it and have vanilla cream instead.
Chocolate Peanut Butter Mousse Cake with Peanut Praline and Caramel Sauce
This GIANT cake will remind you of your favorite candy bar. It has chocolate, peanuts, peanut butter, and caramel all rolled into one. You could make two 2-layer cakes— eat one and freeze the other.  If your custom is not to eat nuts on Rosh Hashanah save this cake for another time, you don't want to miss it. 
Tip: Slicing Cake Layers
Use a knife to mark cake where you plan to slice. Hold the knife in one hand, and place the other hand on top of the cake. Cut about two inches into the cake while turning the cake with the other hand. Keep turning until you have cut in two inches all around the cake. Place the knife into one slit and slice straight across by joining the cuts.
Orange Honey Cake with Orange Mousse 
This is a new kind of honey cake for Rosh Hashanah. I have made it square, but you can make it in 8-inch round pans too. I like to decorate the sides of the cake with candied orange slices (recipe included) but quicker options are sliced almonds or chopped pistachio nuts. Decorate the top with sliced berries, but always wait until just before serving so the fruit doesn't bleed onto the cream.
Fondant-Covered Almond Apricot Cake
This is the cake to turn to for the "wow" factor on your holiday dessert buffet. You can decorate it in any color you like -- match your room, your tablecloth, or your mood. I like to use apricot jam, but you can substitute any flavor you like.
This cake uses early grey tea, orange zest and juice for a flavorful and delicious cake anyone can make. 
Carrot Spice Cake with Honey Glaze
In this carrot spice cake with honey glaze, the brown rice flour gives the cake a very soft texture that allows the flavors of the spices to come through. The glaze is not required; you can always just dust the cake with confectioners sugar. 
Pumpkin Cake with Pecan Praline Frosting
When you are a pastry chef, people just show up on any Yom Tov afternoon because they are certain that you must have a dessert sitting around. The truth is I usually do. I have a cake platter that is covered by a heavy glass dome and it lives on my counter. Before every Shabbos and Yom Tov I "feed" the dome so it is always filled with something. For Sukkot, I always shift towards fall flavors such as apples, pumpkin, nuts and cranberries. This cake is a moist pumpkin cake filled with pecan praline frosting. The frosting contains crushed candied pecans so it is both creamy and crunchy.
Have a happy and very sweet new year!