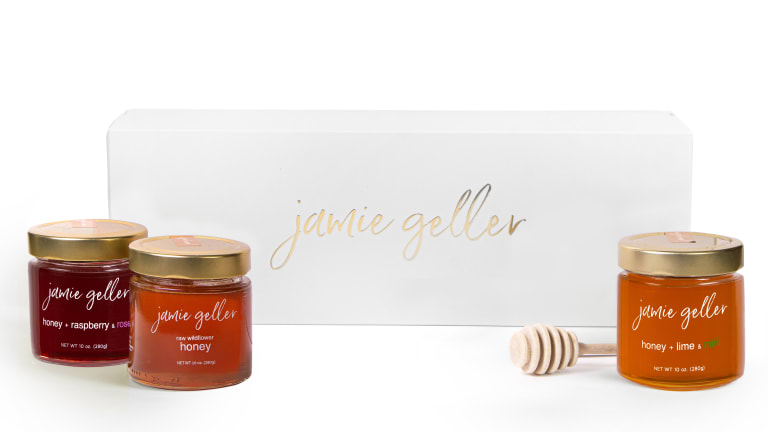 Rosh Hashanah Gifts - Honey Finds
Rosh Hashanah is now less than a month away, have you started planning your menus yet?  If you're lucky, maybe you are eating some of your meals out.  Whether as a hostess gift for someone else or a fun new addition to your High Holiday table, these honey themed finds will sweeten your year.
It's always nice to bring a gift when someone invites you to a meal, but the typical red or white bottle of wine can get a little boring and cute little tchoktes take up space and are not appreciated by everyone. I mean how many honey pots can a person break--er--I mean get as a gift. Fine, if you are like me maybe you appreciate a new honey pot every year, but we want to think of gifts that also go beyond the pot, but are still related to the holiday.   
My feeling is no one can have too much actual honey, did you know it doesn't go bad? 
Jamie Geller Rosh Hashanah Gift Box
Complete with our favorite raspberry and rose, lime and mint and pure raw wildflower honey straight from Israel, your family and friends will love this gift box from Jamie!  Last year we sold out in a few days, don't delay and order your gift boxes now.  Order Here
Dates are one of the simanim for Rosh Hashanah because of a play on words with the Hebrew word for dates, but wait there's more. 
Did you know that the reference "land of milk and honey" (Exodus 3:8), according to many sources, refers to date honey? Date honey, date syrup or silan, is a staple in Israeli cooking, and adds a rich, delicately-caramel like sweetness to many dishes. Our date honey also happens to make the perfect Rosh Hashanah gift. Order Here. 
Make your own honey comb themed dessert using this cake pan by Nordic Ware.  Use your favorite honey cake recipe or any cake recipe and showcase it in this pull apart dessert.  For $38, you can have a lot of fun.  Buy it now!  
You can also buy a honey comb cookie cutter for just $19 and cut out pineapple with it for yellow hives.
Aren't these the cutest lollipops? Infused with real honey, everyone will get a kick out of honey comb lollipop.  Certified OU kosher, these make a really fun little gift for everyone.
Chrysanthemum and Honey Liqueur 
Try this Chrysanthemum Honey Liqueur for a real grown up treat you might not want to share with others.   Honey and chrysanthemum flowers come together in this rich yet delicate liqueur. Mixes well with rum and whiskey, or with tea. Brought to us by Koval Distillery, a craft distillery with small batch spirits that are all OU certified.  
Honey Bee Jewelry
Looking for something new to wear the second night of Rosh Hashanah?  The perfect excuse to get this Amber Honeycomb Pendant.  Now, your table, your plate and even your self can be honey themed. 
If you would rather opt for earrings in theme, try these Honeycomb Drop Earrings and celebrate the new year right. 
Mead is the oldest fermented beverage made from honey. Often associated with Renaissance festivals and its cloyingly sweet taste, Maine Meade Works has brought back the mead and they're showing us how Mead can be enjoyed with both sweet and dry varieties and lots of flavor. Kosher certified and real treat for Rosh Hashanah.
For those that prefer gifts used outside the kitchen but still honor the honey theme, try bath products. This Milk & Honey bath soak is another way to wish someone a sweet new year. 
Do you have any special honey themed ideas, please share them in the comments below.