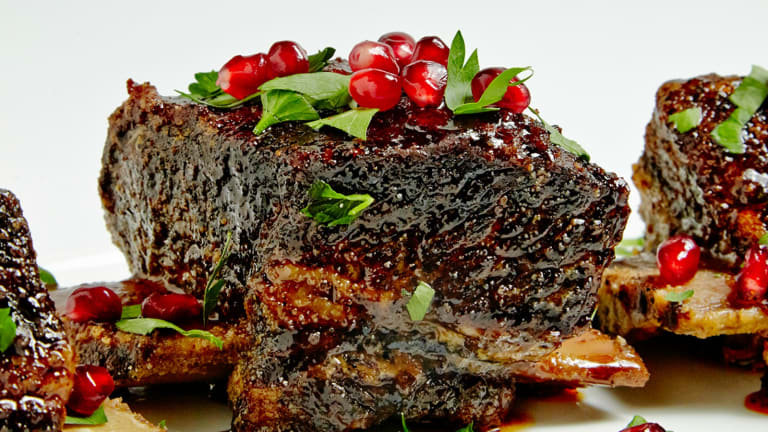 Beyond Brisket - 5 Show Stopping Mains For Rosh Hashanah
Brisket may be the most popular choice for your Rosh Hashanah dinner, but there are times when you might want to try something different. 
5 food bloggers share their ideas for amazing Rosh Hashanah mains that will steal the show. 
ROASTED HONEY-GLAZED LAMB by Jonathan Margolin
In the United States, lamb is an under-appreciated delicacy. When prepared right, lamb can be as succulent, savory, and delectable as any prime roast. The High Holiday season is upon us and this recipe is one that will be a sure favorite. It will be passed on to future generations in your Bubbie/Zaydie cookbook for your grandchildren. 
This recipe has many of the symbolic components which are traditionally eaten on Rosh Hashanah. The round quinoa represents the circle of the unending cycle of life and the prayer that another year-round will be granted. The honey is for a sweet new year, but instead of dipping the apple in honey, I have included hard apple cider in the gravy. 
STICKY SILAN SHORT RIBS by Chanie Apfelbaum
Did you know that when the Torah mentions honey, it is actually referring to date honey, or silan? Silan is a staple of the Israeli diet and is used for both sweet and savory applications. With its deep molasses flavor and thick syrupy consistency, silan works well as a honey replacement. When celebrating Rosh Hashanah, let date honey take center stage with these sticky silan-glazed ribs. With their beautiful presentation and sweet and smoky flavor, they are sure to make a statement on your holiday table. 
SPATCHCOCK CHICKEN by Melinda Strauss
Are you ready for some of the most tender and juicy chicken you've ever tasted??? Sure, everyone says that about their chicken recipes, right? But with this salt-brined whole chicken, you just can't go wrong. The raw chicken is spatchcocked (split open so the entire chicken is flattened out) and covered in a mixture of salt and baking powder for at least 24 hours and up to three days. The chicken is then washed, dried, and sprinkled with olive oil and spices, just like a regular roasted chicken—but so much better. The inside of the chicken stays incredibly juicy and the skin gets super crispy. Not a dry slice around! 
DUXELLES STUFFED CORNISH HENS by Sarah Klinkowitz
This recipe is inspired by one of my favorite dishes, ratatouille. This vegetable dish originates from Nice, and can be served hot or cold. Ratatouille features zucchini, tomatoes, onions, and eggplant, stewed or baked together. It is delicious freshly made, but even better if eaten the next day. The same is true of duxelles, which is a mixture of different types of minced mushrooms and their stems, along with minced shallots and onions (or both) that have been cooked 'til greatly reduced and quite thick. This basic mixture is then used as a stuffing, gravy, or as a garnish. 
SIMANIM CEVICHE by Naomi Nachman
Over the last several years, I have been making special efforts to prepare for my family, for Rosh Hashanah, beautiful simanim platters reflecting the variety of yehi ratzons that we recite on the evening seudas. Each family may have their own minhag of what they use for each yehi ratzon. Each yehi ratzon is a request to Hashem that He give us certain blessings for the upcoming year.
In addition, many of the dishes I serve throughout the meals on Rosh Hashanah also contain many ingredients that represent the simanim. I love ceviche, and make it quite often for my family. I took the concept of using simanim and the flavors that are found in ceviche and created this very special appetizer. Most of the ingredients in the ceviche represent many of the simanim, ranging from fish to apples, leeks, honey, beets and dates.
Ceviche is a seafood dish popular in the coastal regions of South America. Traditionally ceviche is made from fresh raw fish and marinated with lemons and limes and spiced with chili peppers. It also contains chopped onions, salt, and cilantro. As the dish is not cooked with heat (but rather is cured in citrus juices), it must be prepared and served fresh. It is also generally served with tortilla chips on the side, but for Rosh Hashanah, I use apple chips instead.
Cook's note: If you are nervous to eat raw fish, you can use one pound of shredded smoked salmon (lox).