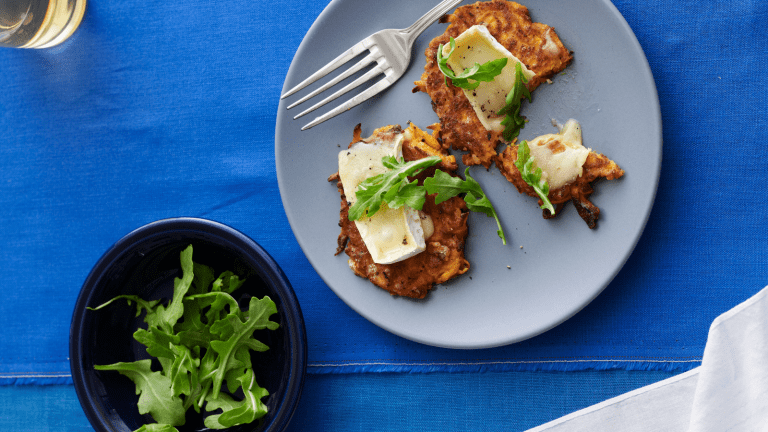 Savory & Fried - Hanukkah Recipes
It's that time of year when deep frying is practically a mitzvah! So even if you usually avoid deep-fried foods, I say go with the flow and embrace the customs of the holiday.  You've got eight guilt-free nights to savor these sizzling delights—it would almost be a sin not to.
This year try something new and different for your Chanukah party or even just one of your eight nights at home with the family. Sure we are big latke fans over here, have you browsed our collection of over 90 Latkes right here on the site? Once you are done with all those come back here and try something new.
CARAWAY NOODLE CAKES WITH RED CABBAGE
These Scandinavian-inspired noodle pancakes are crispy and crunchy on the outside, soft and yummy on the inside.
To make these perfect pancakes you will need 4 (3 ½-inch) ring molds.
I love egg rolls—and egg rolls love me! Now that egg roll wrappers are on the market, anybody can wrap and roll 'em. This, my latest version, evokes a creamy, cheesy, Mexican-style baked potato.
I routinely order tempura at Japanese restaurants, and I always wanted to know how to make it at home. Now that I've
figured it out, I want to share the secrets to terrific tempura with you!
SWEET POTATO LATKES WITH BRIE & BABY ARUGULA
I recently enjoyed the most amazing Blue Cheese and Arugula Pizza at a restaurant in Brooklyn. Couldn't stop dreaming about it—and this superb latke is the inspired result. Use blue cheese (for a tangy, bold, sweet and sour flavor) or brie (for a milder, creamy effect) and finish it off with a drizzle of olive oil, balsamic vinegar, and freshly ground black pepper.
JALAPENO POPPERS AND WASABI DIPPING SAUCE
Most people have only ever had these at a bar or restaurant, often they come from the freezer. Some people shy away completely for fear that they will be too spicy. If you give them a shot, even the spice averse will find that homemade Jalapeño poppers are worth a fry (try). 
Classic Israeli favorite with a twist. 
Everyone's favorite chicken recipe is when it's deep fried. 
Stuff, wrap and roll is what do to make these edible cigars, perfect for dipping. 
When you get your hands on some fresh artichokes do like the Romans and fry them!
A traditional Jewish food meets a traditional British food for a perfect match!
A carnival favorite brought to your home!
Fry like an Italian Mamma.