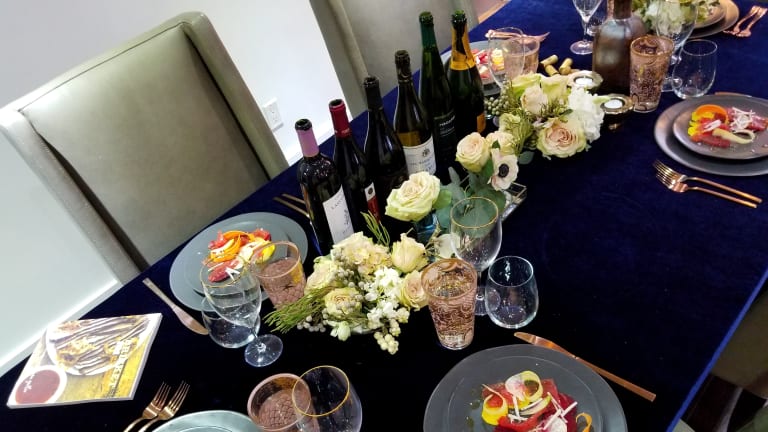 Seder for Everyone Party + Wine Pairings
A 'Passover for Everyone' - that's our goal. Every recipe, article, e-book, and video we are producing this Pesach season is meant to cater to you and your guests' special diets. Wether gluten-free, low-carb, meat-free, dairy-free, pescatarian, vegetarian or you're simply allergic to cooking (check out my 4-ingredient Seder menu!) we have a selection and collection of recipes just for you.
A few weeks back, I began planning a Facebook Live Event centered around Seder wines. I was inspired to create a menu for everyone that would pair perfectly with a variety of unique wines for Pesach and beyond.
The Seder came early this year when Gabriel Geller, wine expert extraordinaire, his lovely (wine enthusiast) wife Yael and their beautiful baby Shmaya (who loved all the recipes!!!) joined me and my good friend Nikki Schreiber, the brilliant mind behind Humans of Judaism, at the home of Editorial Director, Shifra Klein. All the food served comes directly from the site; and other than the plated Carpaccio dish, everything was presented family style. Family style plating is both unpretentious and stunning and truly is the easiest way to entertain.
Easy prep, without compromise is how I like to host. Flavor and presentation reign supreme when you serve dishes like my 4-ingredient Sweet Potato Tian (the perfect side) & my 4 ingredient Avocado Citrus Salad (which goes with EVERYTHING).
Here is a complete list of what we served at our mock Seder and which wines we paired with each dish. Also learn how to taste wine like a pro and pace yourself Seder night. 
SIMPLY ELEGANT FIRST COURSE
FAMILY STYLE 2ND COURSE
ISRAELI INSPIRED BRISKET
WHOLE ROASTED CARROTS WITH DILL GRIBICHE
DESSERT COURSE
ONE BOWL, NO MIXER, GLUTEN FREE CHOCOLATE CAKE
SEDER MEAL RECAP