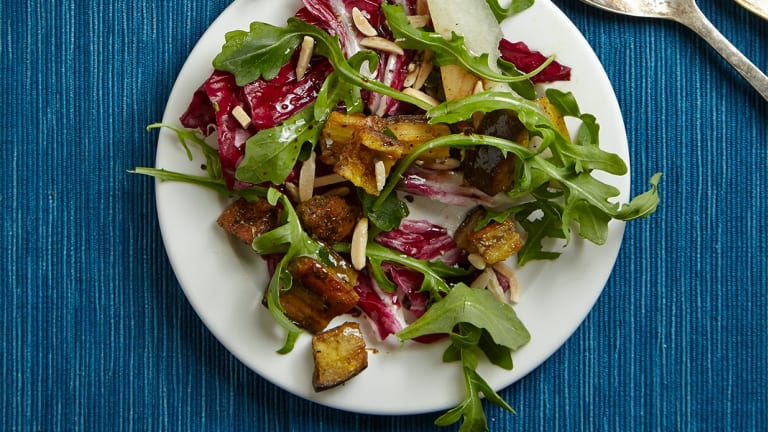 11 Days Until Passover: Sensational Spring Salads
These sensational spring salads are perfect for chol hamoed, when you want to whip together an impressive lunch. Save yourself the shlep to a kosher-for-Passover restaurant and make these fancy salads in your own kitchen. 
This salad was inspired by one I had at Mike's Bistro, an iconic kosher restaurant in Manhattan, years ago. That dish was so memorable with the slightly bitter frisee, runny egg, and crispy duck bacon all brought together with a creamy ranch-style dressing. This is my spin on a favorite salad, and the best part is that you would never know it's Pesach when you're eating it.
RADICCHIO SALAD WITH PEARS AND ROASTED EGGPLANT
As a personal chef, I constantly need to come up with new and unique ways to utilize fresh ingredients. This salad is a fusion of all my favorite fruits and vegetables packed into one great dish. You wouldn't think pears go well with eggplant, but take my word for it!  
Recipes published in JOY of KOSHER with Jamie Geller MagazineSpring 2015 SUBSCRIBE NOW
Want stories like this delivered right to your inbox? Sign up now for our *free* JOY of KOSHER Newsletter.