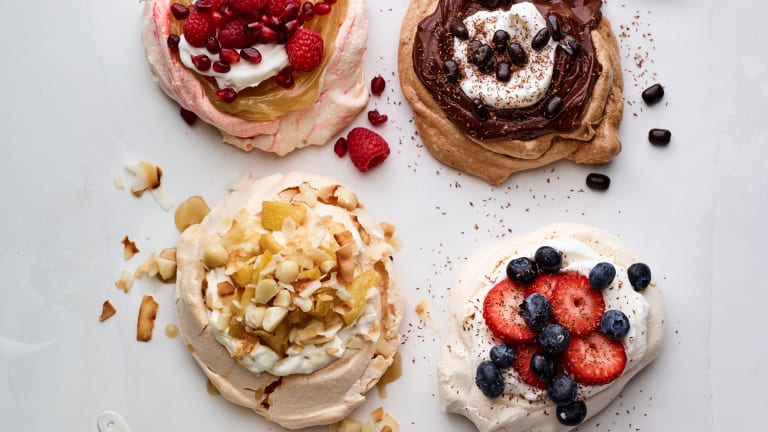 Set Your Sights on Pavlova, the Ultimate Passover Dessert
Pavlova is a famous dessert named after a famous Russian ballerina. It is light, airy and elegant. Crunchy, pillowy meringue becomes a base for almost anything. The meringue itself can handle many flavor add-ins,  ranging from rich chocolate to sweet & tangy pomegranate. Toppings can range from whipped cream, fruit curd, pudding and fresh fruit.
Even better, create custom sizes from mini individual portions, to large 9 inch rounds or go all out and layer the meringues one on top of each other (see chocolate espresso pavlova, below) for a showstopping dessert.  
A pavlova is such a sophisticated crowd pleasing dessert. You can customize according to season and for holidays. I love the hint of spring and use berries, Meyer Lemon curd and softly whipped cream for dairy meals.
Rich, chocolaty and decadent. Pavlova can be made up to 2 days ahead of serving and can be stored, covered tightly, at room temperature.  
Simple and sophisticated. Crisp meringue, a slightly chewy center, and loaded with whipped cream and tart berries, this pavlova has it all. 
BROWN SUGAR PINEAPPLE PAVLOVA WITH COCONUT MASCARPONE 
Brown sugar adds a toffee flavor to pavlova. I love this version with fragrant pineapple and creamy mascarpone. If you can't find mascarpone, use cream cheese.