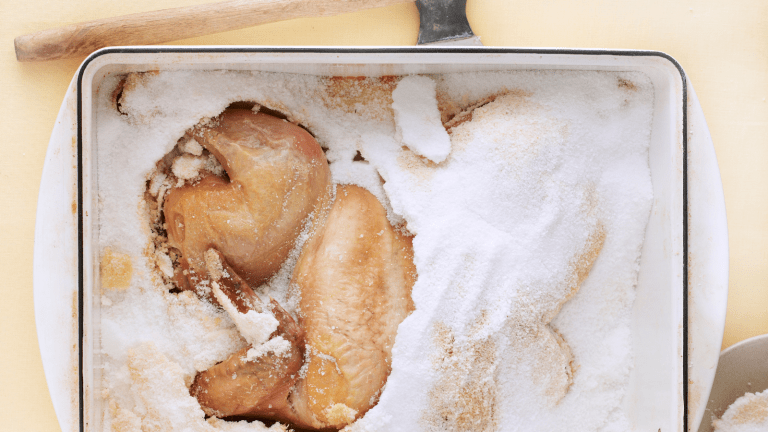 A "Salty" Shabbat Menu
It is little wonder that there are so many Jewish lawyers. Abraham's negotiations with God over the fate of Sodom and Gomorroh and his demand for righteousness and justice have been echoed for centuries by Jewish leaders of courage and conviction. In the end, Sodom and Gomorroh are beyond redemption and the cities are destroyed.  Lot and his family are given the chance to flee and start a new life, but Lot's wife looks back and is turned into a pillar of salt.  This week we remember this dramatic story with a Shabbat menu that will "turn around" your ordinary Shabbat dinner into something salt-sational!
Start your meal with a traditional Portugese recipe for salt cod and potatoes.  Salt cod is fish that has been preserved in salt, the perfect start to this "salty" meal. 
A healthy veggie dish of zucchini noodles with mushrooms and tomatoes is a great filling side dish for this menu. 
This chicken was made for this week's parsha and it's actually quite easy to make. Salt crusted chicken is a technique of encasing a chicken in a salt crust before baking. The salt crust seals in flavor and juices so the chicken is perfectly tender and juicy when it's done.  Once cooked the salt hardens and you break through to your perfect chicken. 
Spicy Sauted Leeks and Spinach
Another vegetable side that pairs perfectly with chicken. 
Salt and Pepper Kugel with Roasted Garlic
And some salt and pepper noodle kugel to round out the menu. 
Finally, dessert.  Salted caramel has been popular for a while now so you can try your hand at these vegan bars or try my favorite Dark Chocolate Salted Cookies with Cacao Nibs  or these Salted Chocolate Chip Macaroons.  
For last year's Vayera Menu click here.