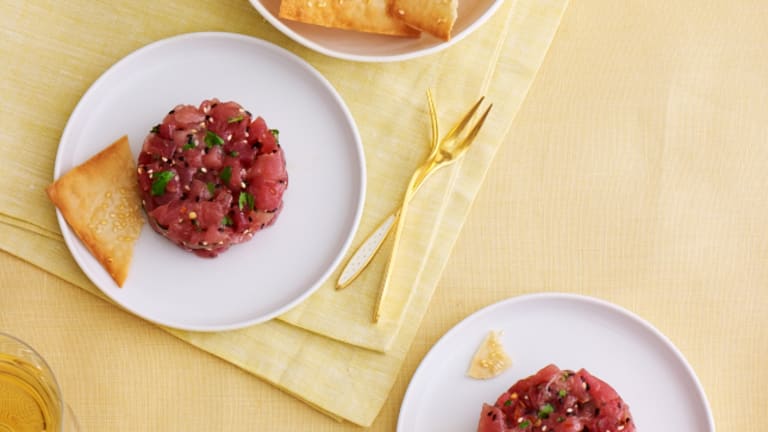 A Last Minute Shabbat or Holiday Menu
This week Moses completes the transfer of leadership to Joshua and reminds the Children of Israel of the centrality of Torah in their lives at this time and for all time.  As the Jewish people are about to enter the Land of Milk and Honey and considering this week's parsha "falls" just before our fall holiday season from Rosh Hashanah through Simchat Torah, I hope it's understandable that I've got honey on my mind and in my recipes for this week's Shabbat menu.  
The good thing is that it can double as your last minute Rosh Hashanah Menu too. 
Wishing our amazing community a Shana Tovah U'Metucha (Happy and Sweet New Year)!
Tuna Tartare with Honey Sesame Wonton Crisps
Tartare or other mostly raw fish recipes are ideal for last minute menus.  They are not only quick to prep, but they don't need to cook.  So they save your oven and stove top for more important work. 
The sheet pan is the best way get diner on the table fast so you can pull this off any time.  If you have a larger crowd feel free to make one whole pan of chicken and another one of the chickpeas and broccoli.  We made this recipe with chicken wings to make the cooking extra fast, but it will work with pieces of chicken or drumsticks perfectly. 
Carrot Apple Slaw with Acacia Honey and Orange Juice Vinaigrette 
A quick no cook slaw with apples and veg is a fresh, crunchy addition for your festive meal. 
Skip the long cooking cake in favor of a quick chocolatey dessert.  Once you melt the chocolate you can use it to coat apples right away or leave it for later to make fresh truffles. 
Last year's menu for Shabbat Nitzavim/Vayelech