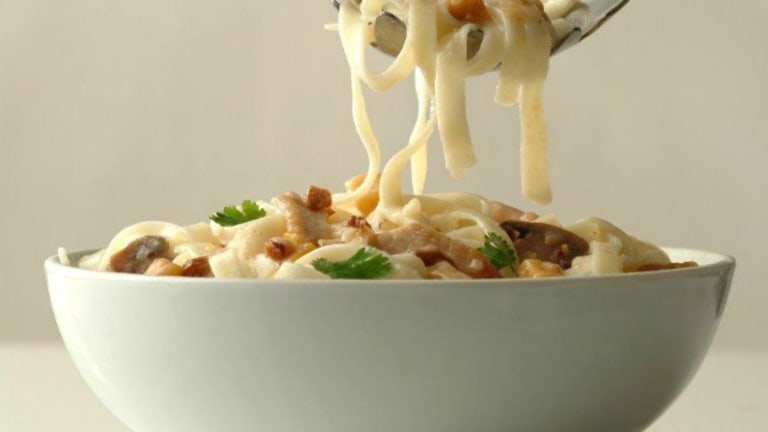 Shavuot Non-Dairy Recipes
When Tamar asked me what I wanted to write for Shavuot and if I ate dairy, I laughed and told her I don't even have a dairy oven.  My family has all sorts of allergies and I am the Kosher Butcher's Wife, dairy just doesn't fit in.  How's that for loyalty!
As for Shavuot, every year our Rabbi stands up in shul and says, "Although dairy should be eaten on Shavuot, we must remember that it is Yomtov and we need to eat meat on a Yomtov, and by the way, this statement wasn't sponsored by the butchers in our community!!"
However, I do make cheesecake (in my mother in law's oven) for the two of us.  She lives on our property so it's convenient when I'm craving a slice of cheesecake.   I also make her batches of macaroni cheese which she always says is the best thing since cheesecake!!  But since my specialty is meat and parve, here are two non-dairy dishes that will satisfy even the chesiest among us.
  When I think ''pasta' somehow I picture a lovely macaroni cheese, or Fetuccine Alfredo, always a creamy, cheesey, dairy dish. Well, this flavoursome, non-dairy creamy pasta has all the taste with the added bonus of being able to serve it as a main meal or a side dish to meat.  
My friend Pam went to Greece with three of her childhood friends.  They had made a pact that no matter where they were living, the year that they all turned 40, they would meet in Greece, so it was in Santorini that they swam in the sea, drank in the Jacuzzi and ate salad for sustenance!  It was the salad I was interested in, so we got to work, substituted here and there, couldn't quite get the mood back for Pam, but we finally got the taste with this Santorini Salad with tofu in place of feta cheese and some toasted couscous, it is the perfect salad that can be eaten as a meal.