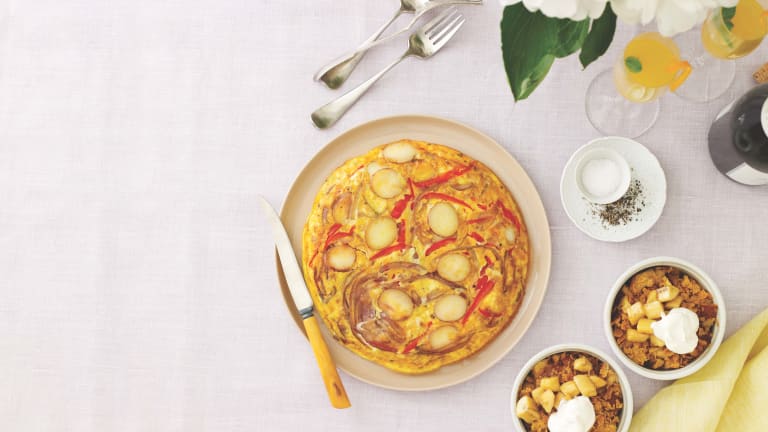 Six A La Minute Shavuot Brunch Recipes
Quick 20 minute prep. There's something for everyone at this perfect Shavuos brunch. Use "à la minute" techniques to individualize delectable breakfast cuisine.
After a night of Torah learning, a fresh breakfast hits the spot. This is the time for à la minute fare. In the culinary arts (which always sounded to me like painting with ketchup), à la minute refers to a style of cooking where an item, or particularly its accompanying sauce, is prepared to order, rather than prepped in advance.  
You can make elements of this breakfast à la minute, and prep some ahead of time, so you are not at the stove while everyone else is enjoying the yuntif feast. It has some savory dishes, sweet sides, southwestern influences, and a little smoked salmon for good measure.
Potato Pancake with Guacamole and Poached Egg
For an even quicker take on the guac—mash avocado and season to taste with salt and a squeeze of lemon. Instead of poaching the eggs, try over easy, sunny side up, or scrambled.
This recipe only makes one omelet because you really can't make more than one at a time.  If you are serving several for brunch, make them all beforehand and keep them whole. Warm the prepared omelets on a greased sheet pan in the oven, warming drawer or on a hot plate.  Then, cut in half just before serving.  Lay it right over a bagel and cream cheese for the ultimate breakfast experience.
Slice and serve wedges out of this hearty pretty frittata—just divine with a dollop of sour cream and a touch of salsa.
Individual Baked Challah French Toast
Prep the night before and place in a warm and toasty oven in the AM
(If you don't keep your oven on over yuntif you can bake this in advance and just reheat on a hot plate or in a warming
drawer.)
Ricotta Pancakes with Peach Syrup
OMG, this is a richly decadent creamy twist on your everyday pancake. It's dressed up enough for your holiday table, but will become a Sunday brunch staple.
Here is how to get perfectly round pancakes - use a griddle pan with circular indentations—or drop the batter into big metal cookie cutters
Prosecco is the traditional choice, but the Cava is lovely also.
For a non-alcoholic, kid-friendly version, use seltzer or Sprite instead of Champagne.  Now everyone can join in the festivities!