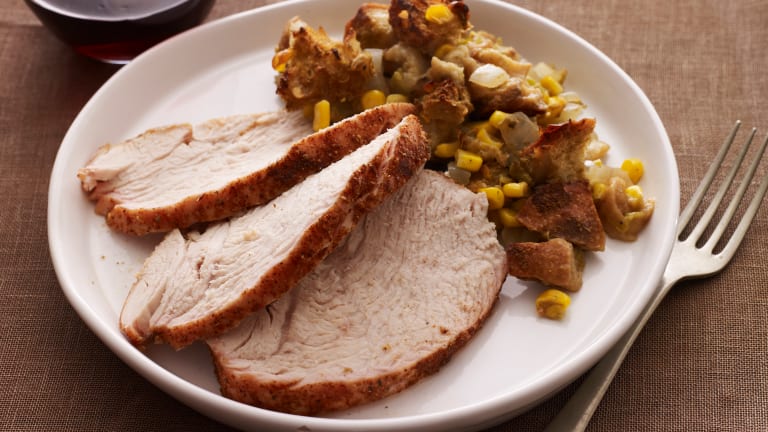 Turkey Dinner For a Small Crowd
I'm starting our grand Thanksgiving feast recipes with its star… the bird. Everyone and their Grandma will be doing a BIG bird and we have tons of recipes for BIG birdies here on our site. But I figured that since we all fight over the white meat (at least in my family), I devised a quick-prep, quick-cook, easy boneless, skinless, turkey breast recipe: Southwestern Turkey Breast with Green Chile Stuffing. Southwestern cuisine is a fusion of Spanish colonial, cowboy, Native American and Mexican style food – a "melting pot" concoction that is true Americana. It's a cool flavor profile to introduce to your friends, family and T-day table.
Of course, if you want to make the biggest bird on the block, you can still use this southwestern spice rub; you just need to convert the measurements. For a 10-pound whole turkey, use 2 teaspoons each of chili powder, mustard powder, kosher salt, dried oregano, and ground coriander; and 1 teaspoon cayenne pepper (or to taste). The cayenne is optional, depending on how much heat you can handle. For every additional 2 pounds of turkey, increase the spices by a ½ teaspoon and the cayenne by a ¼ teaspoon (or to taste). Bake whole turkeys according to this how to roast a perfect kosher turkey chart.
For the savory Green Chile Stuffing: you'll find green chiles from Ortega with an OU kosher certification in the canned goods aisle of your supermarket. Don't drain them before using. There's not much liquid in them and the chunky mixture adds nice moisture to the stuffing.
So let's enjoy a little south-of-the-border taste on turkey day. It's the perfect menu for a smaller crowd or those families who fight over the white meat like mine.