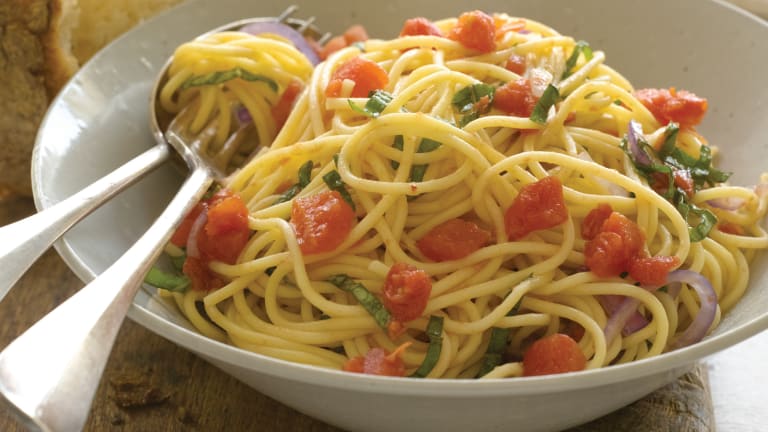 26 Days Until Passover: Spaghetti Time
We always have no less than 5 boxes of spaghetti on hand, at any given time. This way there's always something to make dinner - with enough surplus for unexpected guests.
In trying so hard to be new and different and trendy we somehow forget the old, the tried, the true. Spaghetti with Tomato and Basil is one of those simple, classic, few ingredient pasta pairings that makes you think spaghetti and tomatoes and basil and PARM!!! were invented for moments just like this.
Spaghettini with Tuna, another simply sensational spaghetti supper calls for even fewer ingredients than Spaghetti with Tomato and Basil and so we really, really, really (if I repeat it more than once does that mean you'll listen?) have to focus on quality. Using good quality tuna, I like an albacore packed in oil, will make this dish the best it can be. Perfect for tuna fans, this recipe is based on the Italian Spaghetti al Tonno. Perfect for those that don't eat meat or poultry but do eat fish - or for that tough cookie in your house who won't try any "seafood" other than gefilte or canned tuna. (I'm not naming any names, but if you've read my books you know the culprit.) Spice up your Spaghettini with Tuna by adding red pepper flakes and a 28-ounce can of whole plum tomatoes. (Break them up with you spoon while stirring and cooking.)
SPAGHETTI WITH TURKEY MEATBALLS
The ultimate family friendly meal, (Grandma's) Spaghetti and Meatballs are a fan favorite, at least in our house. For a change from the classic red meat dish, ground turkey is the perfect poultry stand in (even better than ground chicken). I sometimes cheat and make this weeknight winner dinner for shabbos and yom tov - because nothing beats a happy hubby and kids!
Spaghetti and______ fill in the blank for your favorite spaghetti dinner in the comments below.