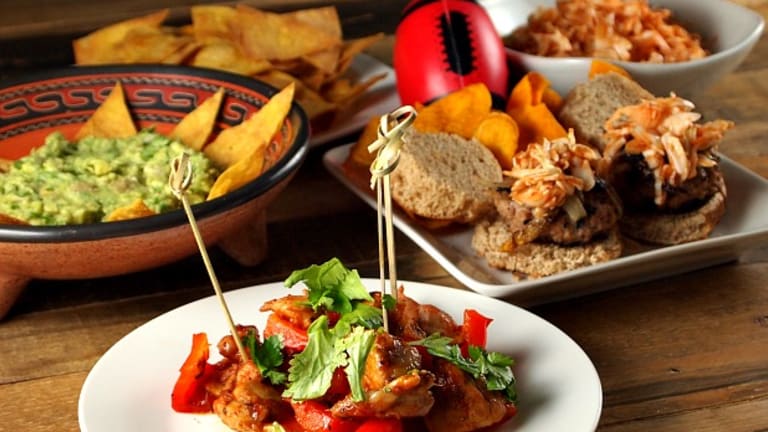 Spice Up Your Super Bowl
This year we want to spice things up.  Don't worry, when you make your own food you control the heat.  So even if you don't like when your mouth is on fire, you can enjoy all these recipes by spicing to taste. 
The most popular foods to serve for the Super Bowl are wings, chili, pizza and guacamole.  The main idea is to serve food that is easy to eat in front of the television and easy to snack and enjoy as the game goes on.
Instead of going with full-size burgers, try sliders.  Sliders are not only cute, but they are easier to eat. This slider is topped it with a special Red Slaw, a common burger or dog topping from Lexington, North Carolina.  They prefer their slaw to be dressed with ketchup instead of mayo and they like it a little spicy.  
For this guacamole, we added a bit of horseradish and wow, did that make a huge difference.  I can't believe I never thought of it before, just a little horseradish in your guacamole is absolutely genius.  If you prefer a more traditional heat try this Spicier Guacamole with extra jalapeno. 
SAUCY CHICKEN AND RED PEPPER BITES
These chicken bites are a fun easy to make little snack you can add to any menu.  Easy to serve and eat with toothpicks.  
Try something different to replace traditional cheese-filled and fried jalapeno poppers with tuna sashimi stuffed jalapenos. 
CRUNCHY BAKED GEFILTE FISH FINGERS WITH HORSERADISH SAUCE
This one is quite different but gets a kick of heat from the horseradish sauce.  A great way to infuse our Jewish food into a Super Bowl party. 
Make your wings extra spicy with this recipe. 
MINI CORN CAKES WITH CHIPOTLE AIOLI
Perfect finger food to add to your party. 
SLOW COOKER CHILI WITH PULLED POT ROAST
Chili with all the fixings. 
Everyone's favorite casual dog in a blanket gets a spicy update with tangy mustard and pickled jalapeños. Serve with additional mustard.
Let's move on to dessert, even these can get a bit of heat added.  These chocolate truffles get a bit of spice from cayenne. 
Some like hot even all the way into dessert and rich chocolatey cookies are the perfect vehicle for some hot chili pepper action. 
Hope you have a great Super Bowl!!