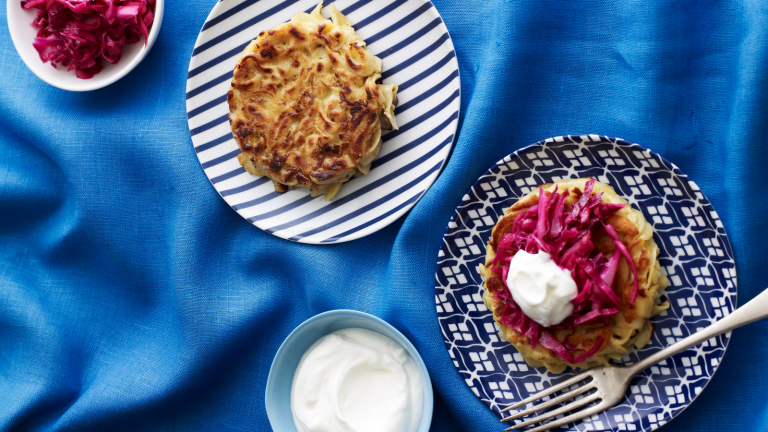 11 Spiced Up Meatless Recipes
During the 9 days leading up to the fast on Tisha B'av it is a custom to refrain from meat. A meatless menu for the 9 days can keep you busy with pizza (we have 100), pasta and potatoes.  And if that's you're thing and you're OK with it then may I recommend my Peach and Arugula Pizza, it's to die for!
Don't miss out on my Light Fettuccine Alfredo
If you'd like to try something different this year and spice up your meatless recipe repertoire then I have a few new dishes just for you.
My Caraway Noodle Cakes with Red Cabbage and Horseradish Sour Cream are totally from another planet.  
Yes I know it's still pasta but not in the traditional Baked Ziti or Creamy Dreamy Pink Linguine sense.  Ever since eating my first scallion pancake when I was 15, the summer I worked as a secretary for my dad's law firm (there was a Chinese restaurant in the building), I became totally obsessed with all kinds of savory pancakes.
Like these Lo Mein Scallion Pancakes
and these Wild Rice Pancakes
Okay, I know you don't want to serve a pancake for every meal, so I got you.
The other recipe I promised you comes from Australia via Woodmere courtesy of my dear friend Naomi Nachman, aka the Aussie Gourmet.  Her Nut Crusted Salmon with Creamy Chrain Sauce uses a base of mayonnaise mixed with horseradish to keep the fish moist and is topped with crushed nuts of your choice although she recommends pistachios, which I adore.  
There are a few other ingredients in there so click here for the full recipe.
Ooooh and one more goodie.... my Mexican Baked Potato
Staying on the baked potato front but switching it up to sweet potato and stuffing it with veggie chili and we have a Black Bean Chili Stuffed Sweet Potato
Last, but not least, for a show-stopping dinner that we made with veggie meat try this persian layered rice dish from Tamar. 
Vegetarian Tahchin Persian Rice
I just love spicing things up when I can, don't you?