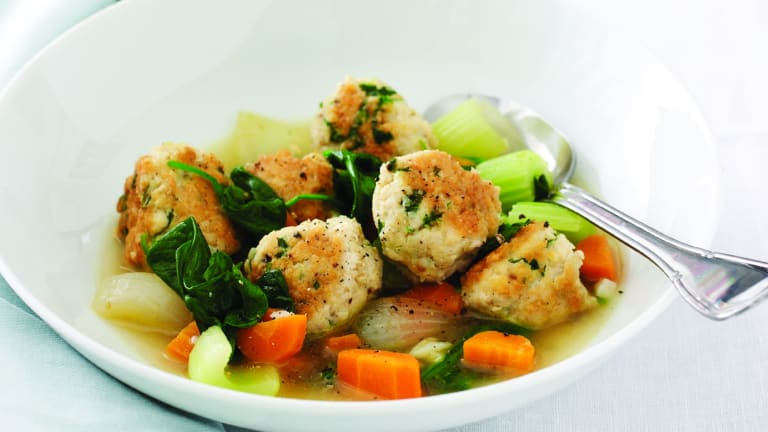 Sukkot Menus Filled With Stuffing
It is a custom to eat stuffed foods on Sukkot, but we also need foods that are easy to bring outside.  You never know what the weather is going to be, there are years where we are hot and sweaty, then times when we are covering ourselves with layers and some years where it is just perfect.  
MORE: 30 Stuffed Foods For Sukkot
Here are two menus to try and fit every weather pattern.  First, one for a cool evening and then a cool menu for a hot day.  
DINNER
I love this soup because it can be served hot or cold.  Enjoy it on a cool evening and then save the leftovers for a hot day. 
Sausage, Apple and sage Stuffing Stuffed Portobellos
Use up your leftover challah in a bread stuffing for a side dish.  Make it ahead, stuff it in a portobello and reheat before serving. 
Serve these easy to eat chicken meatballs mixed with vegetables alongside the stuffed mushrooms. All easy to eat with plastic (even the cheap stuff). 
Make these parve by subbing margarine or coconut oil for the butter and non dairy milk for the milk.  It is the perfect dessert that feels filling and fun and doesn't require any utensils. 
LUNCH
I love to start a meal with these refreshing rolls.  Fill them with tofu, fish or even meat, they are very versatile. 
Cabbage, chicken and asian flavorings is a favorite go to for any holiday.  You can even use leftover chicken to make it extra easy.  The flavor is amazing and perfect for lunch. 
Everyone will enJOY these noodles, kid tested and mom approved.
If you like these menus, let me know in the comments below!!