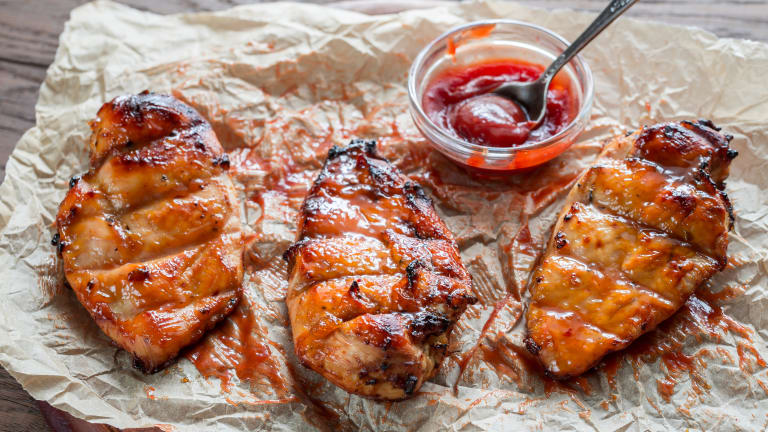 Shabbat Chicken Recipes Meant For Summer
Nothing says Good Shabbos like the aroma of roast chicken filling a house. But in the summer months when it's hot, a scorching oven may be the last thing you would use to greet the Shabbos Bride.
Fortunately, chicken is delicious served cold or at room temperature, and with a little tweaking, can be cooked in a slow cooker that will not heat up your kitchen nearly as much as an oven. Our favorite method – outdoor grilling – is also a great option for chicken in the summer.
For best results with pastured poultry dark meat, we recommend cooking at a lower temperature, or in some liquid, so the meat has a chance to get very tender, watch and try our Sundried Tomato Pesto Roast Chicken. Pastured birds move around much more and actually use their muscles. You can really taste the difference! To learn more about pastured poultry and Grow and Behold, visit www.growandbehold.com or give us a call at 888-790-5781.
MORE: Kosher Pasture Raised Meat with Grow & Behold
Read on for our top five tips for summer chicken worthy of Shabbat, or any day of the week.
The fresh peaches in the BBQ sauce give this grilled chicken dish a delicious flavor. Quick to make and great served alone, or with salad or pasta.  
1. Stick to Boneless Breasts. Trust us, we love the skin and thighs too. But breasts cook up so quickly, you'll hardly notice the heat. They are delicious served cold, and take exceptionally well to marinades, chutneys, even salad dressing. Serve on their own, in salads, or with pasta. The key: don't over cook. Especially if you're cooking ahead or serving cold, you want the moistest breasts possible. If breasts are more than 1 inch thick, freeze them for 30 minutes and then use a very sharp knife to slice them into two thinner pieces. This will let you sear them quickly on the outside to develop the crust, without overcooking the inside.
MORE: Grilled Chicken: 3 Meals, 1-Time Prep
Use your favorite pesto to make this flavorful grilled chicken. Pesto grilled chicken is perfect on a salad or a sandwich anytime.  
This aromatic chicken and rice dish is a one-pot-wonder any time of year, and especially enjoyable in the summer when you're not overheating the kitchen.   
2. Put the crock pot to good use. It's not just for wintry stews. An aromatic chicken and rice dish is a one-pot-wonder any time of year, and especially enjoyable in the summer when you're not overheating the kitchen.
MORE: The Best Summer Crock Pot Recipies
SLOW COOKER MOLE CHICKEN WINGS
These saucy wings will stay hot until you are ready to serve them. There is a bit of spice from the chipotles and tons of flavors from everything else in the mole sauce, but it comes together easily with the help of a food processor and a slow cooker. Enjoy.  
BUTTERFLIED HERB AND LEMON GRILLED CHICKEN
3. Amp up the herbs. Take full advantage of summer bounty to bring amazing flavors to your chicken. Parsley, basil, marjoram, thyme, sage, chervil, chives, rosemary – pick an aromatic bouquet from your kitchen garden or favorite farmer's market. Chop finely and mix in a small bowl with olive oil. Gently separate the skin from the meat on chicken pieces (thighs, breasts, etc.) or a whole chicken and shmear the mixture thoroughly inside. Some lemon or orange zest in there wouldn't hurt, either. Roast and enjoy.
MORE: 7 Herbs Hacks and Recipes
4. Wrap it up. Get a whole second meal out of leftover roast chicken when you shred it and add to tacos or rice noodle wraps. You've already got the oven on, so cook double the amount you need. Chill what you don't serve and chop or shred to make salad wraps or tacos. For wraps, use rice noodle wrappers with thin slices of carrot, scallion, rice noodles, cucumber, and peanut sauce. For tacos, add with chopped tomatoes, cilantro, white rice, lime, jalepeño, salsa verde, and chopped summer fruits such as peaches or nectarines.
MORE: The Best Way To Use Leftover Chicken
5. The parts are just as great as the whole. Wings are not just for the Superbowl. When grilled over high heat, then left to get super tender on the cooler side of the grill, these petite morsels are the essence of roast chicken in one bite – without even turning on your oven. Thighs are another great cut for the grill – their flat surface area lets them cook evenly, and cooking with all one cut (rather than a whole bird cut into parts) means cooking is more even and goes more quickly.
Chicken wings are not just for the Superbowl. These petite grilled morsels are the essence of roast chicken in one bite – without even turning on your oven. Recipe can be easily multiplied.  
PERUVIAN GRILLED CHICKEN THIGHS WITH TOMATO CILANTRO SAUCE
The tomato cilantro sauce gives this chicken dish a distinct South American flavor.    
Naftali Hanau grew up around the corner from the kosher butcher, and has loved meat from a young age. He eventually learned shechita and founded our favorite kosher meat company, Grow and Behold Foods, which sells delicious OU Glatt kosher pastured meat to customers all over the USA. Naf joins us here at JOY of KOSHER with Jamie Geller every month to break down various cuts of meat, serve up his secret recipes and answer your "meaty" questions. Post comments below, or contact Naf directly at meatexpert@growandbehold.com.
Want stories like this delivered right to your inbox? Sign up now for our *free* JOY of KOSHER Newsletter.