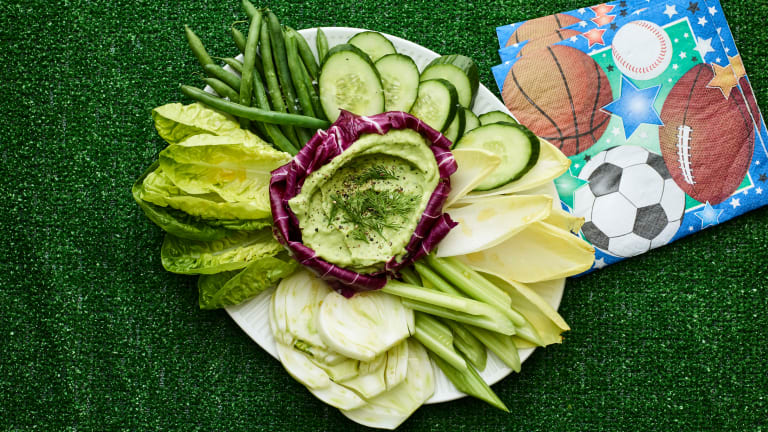 Super Bowl Food Ideas
For years we either hosted or contributed food to a big super bowl party with all of our friends. The food consisted of the usual wings, chili and lots of fried goodies.  The main promise always being lots of meat, we save dairy for our Oscar parties.  Some of us would gather around the TV and watch and eat while others would play games or chat in the kitchen coming out only for some of the commercials.  Fast forward a few years and a few kids later and we can't be bothered to host or to attend any of these late school night shindigs, but that doesn't mean we don't party.
Nowadays, we make it fun with our kids by planning the traditional goodies with my healthy spin and the real special treat in our house is that we all eat in front of the TV.  Here are a few of my favorite snacks to serve, they all require a good vacuuming, but what's a party without crumbs.  Plus check out a few more Super Bowl party ideas from our friends that are not quite as healthy as mine.
Forgo the usual bagged potato chips for these healthy and delicious kale chips, keep them plain or add your favorite seasoning with these 4 flavored kale chip recipes, they are a real crowd surpriser.  
I don't even buy bagged tortilla chips anymore and we make these on a weekly basis.  Just keep some corn tortillas around and you can bake these up in 10 minutes any time.  But for the big game day, take these chips and turn them into the best nachos you have ever had. Yes, they can be healthy and made without cheese or less cheese and lots of veggies and beans.  Assuming you are having meat, top these with some cooked lean ground beef and/or homemade refried beans (just mash up a can of beans and cook in a little oil with diced onion and garlic and chopped cilantro if desired), salsa, guacamole and some non-dairy sour cream, you can even get some sliced olives and jalapenos if that's your thing.  If going dairy try some fake meat or my favorite, soyrizo with the cheese.
Here is where we go a little on the naughty side, but who can resist some pigs in a blanket for a Super Bowl party.  What I do try is to mix in some veggie dogs, so at least some of the dogs are lower in fat and calories and sometimes instead of the heavy puff pastry I use wonton wrappers, baked or fried they are still lighter.
The main goal for me any time I host is to serve lots of veggies so that I can fill up as much as I can on those.  I will have a crudites platter even if just for my family and we can eat them all night and all week long.
Here are more Super Bowl favorites.  
What are you planning for the big game day?