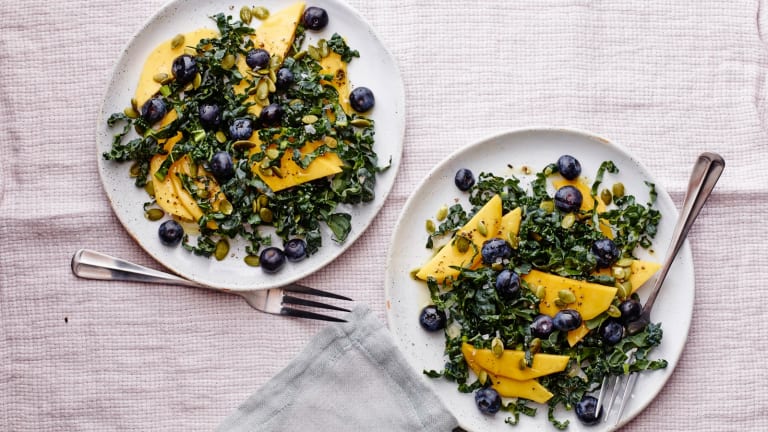 Superfood Shabbat Menu
Superfoods are nutrient-rich food containing a combination of antioxidants, healthy fats, vitamins and minerals all considered to be especially beneficial for health and well-being. This weeks Shabbat menu focuses on a handful of superfoods used in multiple recipes. Kale, nuts & seeds, salmon, extra virgin olive oil (like Colavita), berries, mango, beans, and eggs are the core superfood ingredients that make up this menu. 
The following recipes are great for Shabbat but also pack a few superfoods per recipe, so you can create a truly healthy, nutrient dense Shabbat experience. Focusing on creating a few dishes with one ingredient (ex. kale pesto & kale salad) and utilizing cheaper ingredients to bulk up the menu (eggs for the deviled eggs & kidney beans for the vegetarian cholent), makes superfood eating cost-effective and doable. 
TIP: If you don't like kale, you can easily substitute with arugula or baby spinach in the pesto and salad recipes below. 
Omit the lox and serve with cholent or meat course, if you would like. Eggs are packed with protein and very low calorie as well. Using avocado for creaminess brings some healthy fat to this classic party dish...perfect for any Shabbat kiddush. 
Kale, almonds, garlic, extra virgin olive oil & salmon are all considered superfoods. And beyond those five ingredients, you need a bit of basil, lemon salt and pepper and you've got yourself a wonderful fish course option. 
Kale, mango, (blueberries, if you want) and pumpkin seeds make up this powerfully flavored and healthy salad. 
Kidney beans and sweet potatoes are two nutritious dense foods. Omitting the meat, makes for a lighter cholent and many family members usually prefer to stay pareve on long Shabbat afternoons. 
Serve at any temp. In place of the chicken, use tofu, leftover steak or ground meat.  
This recipe utilizes very little sugar and highlights the unique sweet and sour flavor profile found in berries. Use blueberries, blackberries or strawberries; or a combination of all three.