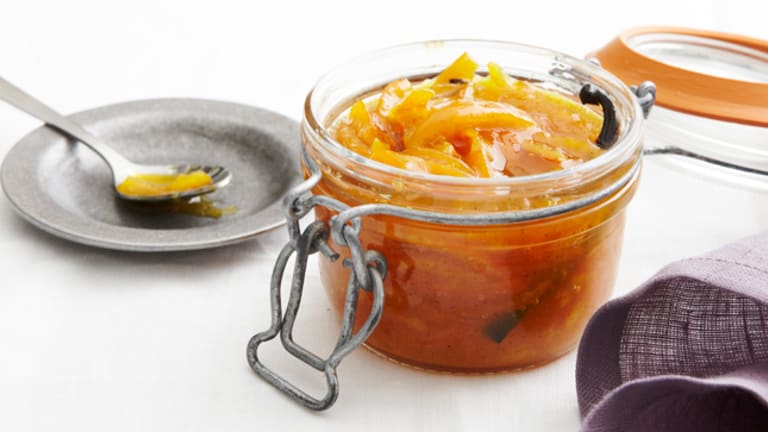 The Art of Edible Gifts: Jamie's Purim Favorites
Gift giving is an art. It's so hard to get it quite right. The great thing about Purim is that, unlike every other gift-giving occasion, we don't have to rack our brains trying to figure out the perfect present for a long list of loved ones. As the holiday dictates, we have the fun, festive, and delicious custom of delivering food gifts to everyone. Unlike gifts of the non-edible variety, these (sometimes) homemade treats are perfectly suited, to so many people, all at once. 
I am sharing with you some of my favorite sweet treats – perfect for Purim and as edible gifts for occasions year-round. (Think: welcome-to-the-neighborhood-gift or teacher-appreciation-gift or hostess-thank-you-gift.) 
A freilichen (zissen) Purim!Happy (sweet) Purim!
Simply sweet popcorn hacks: Fill red-and-white striped vintage-style popcorn boxes with a sweet riff on the classic movie theater treat. For more popcorn inspiration try Salted Caramel Popcorn. 
MORE: Create the Perfect Purim Gift Basket
Cookie treats: For a "healthful" twist, go with my Green Tea Cookies. (Ground green tea leaves have 100 times more antioxidants than a cup of green tea!)
WATCH: Make Mike & Ike Delicious Bejeweled Cookies
CARROT APPLE MINI CUPCAKES WITH NON-DAIRY CREAM CHEESE ICING
Muffin meets cupcake confection...Can't decide? Make this cross between both.
MORE: 10 Mishloach Manot Ideas
Chocolate-y Chinese Takeout: Easy to find, fill classic Chinese takeout containers with my sweet Chocolate Raspberry Wontons.
MORE: A Chinese Purim Seudah Menu
A Jar of Homemade Marmalade: Small mason jars filled with jams, marmalades, and chutneys will never go out of style. 
MORE: Mishloach Manot in a Jar
Originally published in JOY of KOSHER with Jamie Geller Magazine Purim 2015 SUBSCRIBE NOW
Want stories like this delivered right to your inbox? Sign up now for our *free* JOY of KOSHER Newsletter.