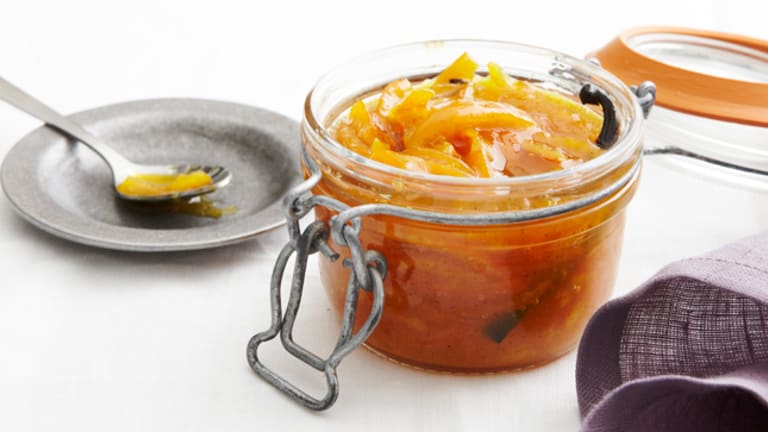 The Art of Edible Gifts: Jamie's Purim Favorites
Gift giving is an art. It's so hard to get it quite right. The great thing about Purim is that, unlike every other gift-giving occasion, we don't have to rack our brains trying to figure out the perfect present for a long list of loved ones. As the holiday dictates, we have the fun, festive, and delicious custom of delivering food gifts to everyone. Unlike gifts of the non-edible variety, these (sometimes) homemade treats are perfectly suited, to so many people, all at once. 
I am sharing with you some of my favorite sweet treats – perfect for Purim and as edible gifts for occasions year-round. (Think: welcome-to-the-neighborhood-gift or teacher-appreciation-gift or hostess-thank-you-gift.) 
A freilichen (zissen) Purim!Happy (sweet) Purim!
Simply sweet popcorn hacks: Fill red-and-white striped vintage-style popcorn boxes with a sweet riff on the classic movie theater treat. For more popcorn inspiration try Salted Caramel Popcorn. 
MORE: Create the Perfect Purim Gift Basket
Cookies are a very accessible gift for anyone to make, but you can still make your mark by using sweet and fun flavors to make it creative. Try the Fig and Walnut Cookies for flavors reminiscent of the middle east or Pumpkin Cookies with White Chocolate Chips & Walnuts for a distinctly modern type of cookie. For a "healthful" twist, go with my Green Tea Cookies. (Ground green tea leaves have 100 times more antioxidants than a cup of green tea!)
WATCH: Make Mike & Ike Delicious Bejeweled Cookies
CARROT APPLE MINI CUPCAKES WITH NON-DAIRY CREAM CHEESE ICING
Muffin meets cupcake confection...Can't decide? Make this cross between both.
MORE: 10 Mishloach Manot Ideas
Chocolate-y Chinese Takeout: Easy to find, fill classic Chinese takeout containers with my sweet Chocolate Raspberry Wontons.
MORE: A Chinese Purim Seudah Menu
A Jar of Homemade Marmalade: Small mason jars filled with jams, marmalades, and chutneys will never go out of style. 
MORE: Mishloach Manot in a Jar
Chocolate Bark
For the chocolate lovers in the circle there are a multitude of options! Two of these can be made in a snap, try the two-ingredient, super simple Peanut Chew Popcorn for a salty-sweet and crunchy gift. There's also the elegant and customizable Decorated Brownie Bites, made even easier if you use brownie mix! Then there are the sophisticated Passion Fruit Wine and Mango Filled Bonbons to give as a grown-up mishloach manos treat, or the crowd-pleaser Chocolate Bark.
Savory and Crunchy
A little crunch and a sprinkling of cheese can make for a deceptively simple and delicious gift. Have fun with a favorite child hood snack with homemade Whole Wheat Mozzarella and Chive Cheez-its. If you're in a time crunch and have a well-stocked pantry, go for the Truffle and Rosemary Popcorn.
Challah
No one can turn down homemade challah topped with flavors not often seen at the shabbos table. This is a win-win situation in my book, make an extra batch of challah one week and freeze the dough, when you're ready take it out to rise and customize the toppings for a great mishloach manot gift. Try the Zaatar and Olive Challah or Jew in the City's Cinnamon Raisin Walnut Challah.