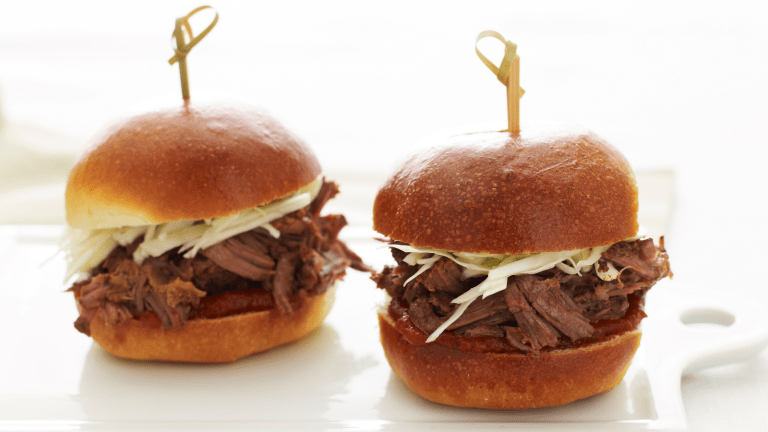 The Best Miniature Foods
They became trendy a few years back but I just can't get over them.  Pulled short ribs, quite like the cupcake, have stolen my heart.  I especially like them slathered in BBQ sauce and piled high on a bun topped with avocado slices or crunchy cabbage salad or crispy fried onions.  As you can see I am quite discriminating.  These mini sliders make me feel better about myself... cause mini foods are perfectly portioned and as my Grandma "Ma" a"h always said... "everything in moderation."  She was one smart, special, skinny lady.  Although her tastes were more homemade kishka for shabbos and less sliders for the superbowl.   I think she'd be proud that I am turning out food not just eating it.  And come game day I usually care slightly more about the spread than the score BUT now I can save some cals cause the game is on in the middle of the night in Israel.  Guess I'll have the sliders for breakfast while I read about the highlights.
Get the recipe for Short Rib Sliders.
Some more of my favorite mini foods -- cause I'm just in that kinda mood:
I love eating off a toothpick. Feels so dainty. 
Another kind of slider for the burger fans. 
Caviar and Cream Cheese Crackers
For the dairy lovers. 
The perfect little bites. 
Mini Chocolate Coconut Sandwiches
Just yum. 
A simple fun treat. 
These don't need to wait for tea time. 
So much better than the casserole version.