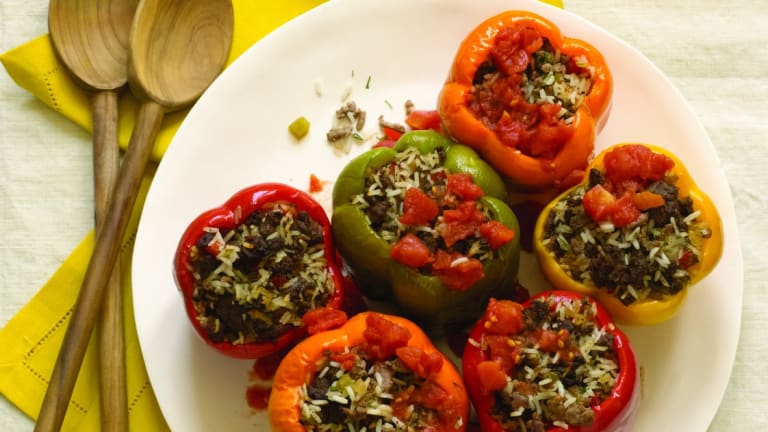 The Best Stuffed Peppers With Hacks and Variations
Present a tray of multi colored stuffed peppers for an easy holiday dish that will surely elicit oohs and aahs. I am going to give you a few variations on this recipe that's ready in 40 minutes: from start to serve.
Colors
Don't stress on the colors – it's just for presentation. Of course a green bell pepper is not as sweet as yellow, orange and red but after that consideration buy what's on sale, available or pleasing to your eye.
Cut the Cooking Time
Filling the peppers with boiling water is a little trick to cut the cooking time and keep the stuffing from drying out in the oven. If you are still concerned about dry stuffing see the Tomatoes on Top note below.
Rice
Stuff with either white or brown rice or even couscous, quinoa, barley, bulgur, orzo, or even broken (slightly undercooked) spaghetti. This is a really versatile, grab what you got for bulk, stuffing.
Tomatoes on Top
Use a can of chopped tomatoes like the recipes says or even a jar of marinara sauce. If you are going to make this in advance and reheat for the holiday or are simply a tomato or sauce-y fan, also mix in a cup or more of your tomato based product with the rice and meat before stuffing you peppers.
Portions 
If you plan to plate this as part of a larger meal create smaller portions by cutting the tops off the peppers (careful to keep them in tact) and then cutting the peppers in half. Keep the bottom half for stuffing and serving and dice the top half for mixing with the meat and rice. Use the pepper tops as lids and serve them closed or slightly askew for a pretty presentation.
Get 8 different recipes for stuffed peppers. 
8 Stuffed Pepper Recipes