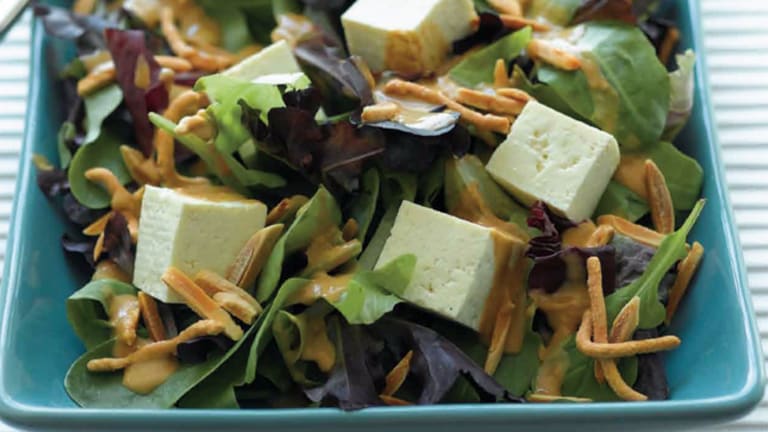 My Top Tofu Hit-List: The Best Vegetarian Tofu Recipes
I was a vegetarian for 25 years until I met and married Hubby. My mom always tells the story of trying to sneak pieces of chicken into my food and how, without fail, I would always find the fowl. I was "that girl" who loved scouring small health food stores and cafes (before super food stores like Whole Foods and Trader Joe's were in vogue), drinking wheat grass shots, eating tempeh burgers, and buying jars of raw, all natural, nothin'-but-peanuts, peanut butter.
I still eat and actually prefer a mostly vegetarian diet during the week. For Shabbos, my hubby, and my career, I go fleish for the "weekend."
The recipes below are some of my personal favorites; fast, and fresh vegetarian (and some vegan) recipes that are all packed with protein – something I always strive to integrate into my vegetarian cooking. Happy (Holiday of the Vegetarians) Shavuot!

MORE: Q&A With Levana: Understanding Tofu
This quick salad is super healthy and is filling enough to be a complete meal or served along side other dishes for a large party. Tofu soaks up the delicious flavors of tomato and green onion and is garnished with a slightly salty sprinkle of feta cheese.
STIR-FRIED TOFU WITH SOBA NOODLES
Soba noodles have a tasty nutty flavor from the buckwheat that pairs really well with some simply stir-fried tofu. Everyone loves this recipe, leftovers are wonderful too.
If you can't find chili garlic paste, you can make your own: purée 2 cloves garlic, 1/2 teaspoon kosher salt, 1 tablespoon sugar, 1 tablespoon vinegar, and 2 jalapeño peppers. Keep any remaining paste in the fridge for up to one week.
You can serve this salad warm or at room temperature. 
MORE: Vegan Cuisine: It's Now Easier Than Ever
Want stories like this delivered right to your inbox? Sign up now for Jamie Geller's Newsletter.