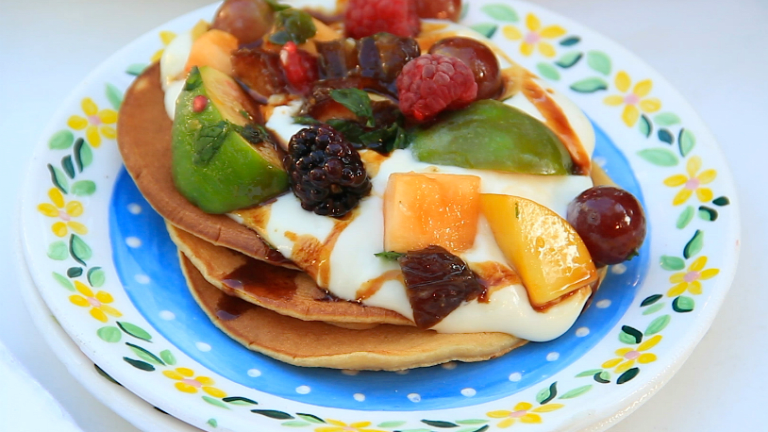 The Easiest Guide to Tu B'Shevat
What is Tu B'Shevat and how do we celebrate?
It is written: "For the Lord your God is bringing you to a good land, a land with brooks of water, fountains and depths, that emerge in valleys and mountains, land of wheat and barley, vines and figs and pomegranates, a land of oil producing olives and honey, land in which you will eat bread without scarcity, you will lack nothing in it, a land whose stones are iron, and out of whose mountains you will hew copper. And you will eat and be sated, and you shall bless the Lord, your God, for the good land He has given you." (Deuteronomy 8, 7-10)  
MORE: How to Celebrate a Tu B'Shevat Seder
Tu B'Shevat is the New Year of The Trees . The name comes from the date of the Hebrew calendar (Tu means 15, and Shevat is the 11th Hebrew month). 
It is the custom on Tu B'Shevat to eat from the fruits of Israel. Literally speaking, if you can find fruits grown in Eretz Yisrael, that is best! Otherwise, focus on getting the 12 types of fruits as descirbed below, and you're already on your way to a meaningful Tu B'Shevat seder. 
Another custom is to read from Pri Etz Hadar, compiled by a student of Rabbi Yitzchak Luria, the "Holy Ari" of Tsfat. This text is a Haggadah, similar to what we read on Passover, which explains which fruits to eat, and in which order. 
Here is our condensed guide to celebrating Tu B'Shevat in style. Feel free to get the kids involved in your preparations, try some fruits you may have never eaten before, and gain a new appreciation of what it means to celebrate the New Year of The Trees. Happy Tu B'Shevat!
MORE: Jamie Geller's Favorite Tu B'Shevat Recipes
Follow JOYofKOSHER Tu B'Shevat Recipes on Pinterest
Shopping List:
1) Fresh or dried fruits, especially the main 12 fruits:
Wheat
Olives
Dates
Grapes
Figs
Pomegranates
Etrogim
Apples
Walnuts
Almonds
Carobs
Pears 
2) Kosher wine. (Enough for 4 glasses per adult)
3) Wheat products, such as bread, cake or cookies. Bake your own or buy.
MORE: Israeli Inspired Cookies for Tu B'Shevat
Prepare for the Seder
1) Print out a Tu B'Shevat Haggadah. Alternatively, just print out or write down only the blessings and ask the kids to draw pictures for each blessing to make your own haggadah.
2) Don't forget to wash, chop, and check all your fruits and nuts for bugs! A prepared platter of cut-up fruits with nuts makes it easy to pre-check, and for guests to grab each item from the table with less mess.
3) Plan and prepare your meal, with a focus on fruits and nuts.
3) Decorate your Tu B'Shevat table with flowers, leaves, nuts, fruit, and homemade decorations. Make sure to have your fruit platters accessible on the table for easy grabbing.
MORE: Tu B'Shevat Celebration Menu
Let the Seder Begin!
1) Start with the blessing on the wheat products (hamotzi for bread, or mezonot for cookies/cake). 
2) Recite the blessing for the first glass of wine. L'chaim!
3) Choose a fruit or nut that grows on a tree and recite the blessing for fruit. 
4) Continue with the blessing for a food which grows in the ground and recite the blessing for vegetables. 
5) Recite the blessing of shehakol for another item which doesn't fit in the above categories.
6) Enjoy and appreciate each bite! Then serve the meal along with the 3 more glasses of wine.
7) At the conclusion, say the grace after meals or al hamichiya to conclude our appreciation for the food.
WATCH: Tu B'Shevat and the Seven Super Foods of the Bible
Learn More About Tu B'Shevat!
 MORE: Gluten Free and Natural Tu B'Shevat
 Want stories like this delivered right to your inbox? Sign up now for our *free* JOY of KOSHER Newsletter.