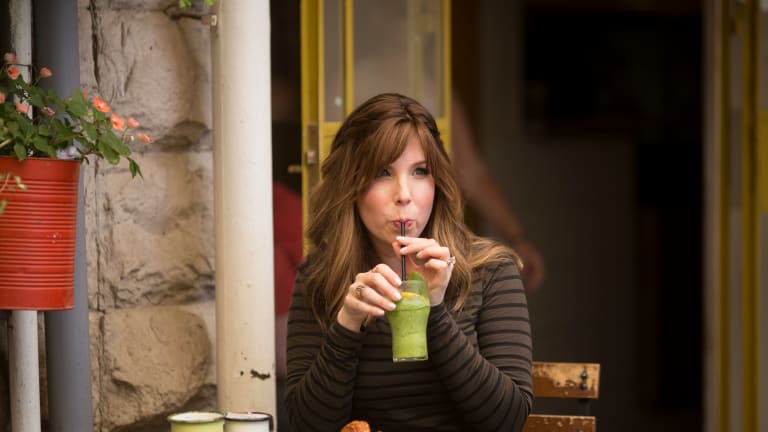 The Flavors of Limonana for Yom Haatzmaut
When I think about celebrating Yom Haatzmaut, Israel's Independence Day, my thoughts naturally turn to Israeli food. Yom Haatzmaut is a day of celebration and barbecues across Israel, and just thinking about all the delicious spiced grilled meats and veggies stuffed into fresh pita with hummus and other salatim makes me hungry. I want the flavors of Israel to be front and center in any Yom Haatzmaut menu I create and I try to have an Israeli meal from beginning to end.
One of quintessential flavors of Israel that I like to include is the refreshing combination of lemon and spearmint, called limonana (a combination of the Hebrew words for lemon and mint).  The combination of lemon and mint is the perfect way to cool off on a hot Israeli day and limonana abounds in Israeli supermarkets both in the form of drinks and other frozen treats.
My favorite way to enjoy limonana is the frozen slushy drink served in many Israeli cafes. When I am in Israel it is my go to treat to cool off on a hot summer day. When I return home from a visit to Israel I always crave frozen limonanas. This recipe makes it easy to enjoy this refreshing treat at home. All it takes is a blender and a few simple ingredients and you can be sipping a frosty limonana in your own kitchen or backyard. Yom Haatzmaut is a day of barbecues and nothing will cool you off quite as much while standing by the grill as this Israeli treat.
While traditionally the flavors of limonana are usually used in beverages or frozen treats I wanted to use the same flavors to make something a bit more unique to serve for dessert on Yom Haatzmaut. These bars take the combination of lemon and spearmint and turn them into the perfect minty lemon bars. With a crisp shortbread crust topped with a sweet and tangy lemon mint filling, these bars are refreshing and deliciously satisfying. The flavor of the bars is quite intense so I highly recommend cutting them into small squares.
Enjoy a simple limonada with your Beef Sausage and Pepper Rolls.
Love citrusy mint flavored foods? Try our Honey + Lime & Mint, now available on Amazon. 
Whether enjoying these limonana treats on Yom Haatzmaut or any other day they are sure to be a hit with all who try them.