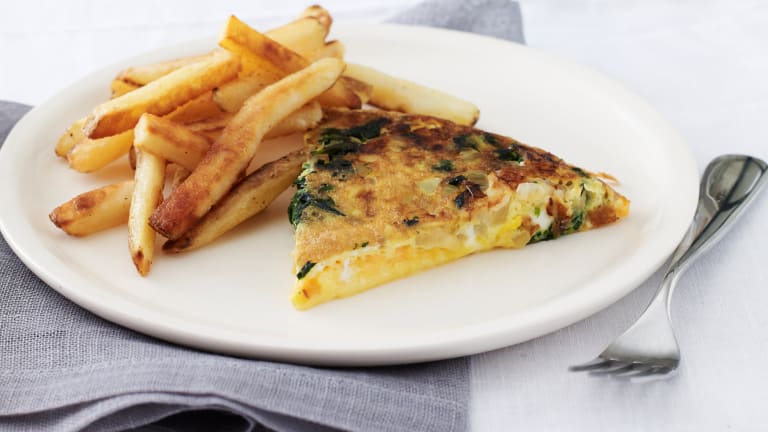 The Last Suppers - Easy Meals To Cook Now
Hi Jamie,
I am a harried mom of 3 and find cooking healthy meals in the last few days before Pesach a real challenge. It's such a challenge to feed everyone well while bringing minimal chometz into the house. What kind of suppers do you advise?
Thanks, Jenny in Boston
Jenny,
I am struggling with this too. For me it's even harder because I "turn over" my kitchen to Pesachdig early on (to get a jump on the cooking) and it feels like Pesach here for 15 days, not 8.
And this year, it's even harder, with the kids home all the time, no way to eat out of the house, making old clothes feel new, figuring out how to do our own haircuts and I'm still working! 
Then Hubby and the kids stroll in and ask, "What's for dinner?" So guys, here's my attempt at keeping the family satiated while really doing 100 other things.
1. Breakfast for Dinner
Omelets, frittatas, even scrambled or sunny side up eggs. You can make it feel a little more like dinner with a side of fries -- or just embrace it and make hash browns. Check out 20 Gluten-free frittata/quiche recipes. 
2. Latkes are not just for Chanukah
They're perfect for Pesach and pre-Pesach. Make 'em straight up potato or go for the pumped-up veggie variety and serve with a side of salad.  If a recipe calls for flour, just use potato starch or matzo meal.  Check out 10 latke recipes. 
3. Keep it simple!
Roasted chicken, grilled meat, poached or broiled fish with steamed veggies, a salad (or sauté with some garlic or shallots, and a touch of olive oil and salt). This is a meal even weight-watchers can be proud of, but is also super easy to make.
4. BBQ
If the weather cooperates, it's a great time for a backyard barbecue – everybody stay outside with those hot dog buns! (Or skip the buns if you're already K for P and just eat BBQ chicken, burgers and grilled veggies. 
5. Salads that eat like a meal 
These hearty salads are perfect this time of year - not just because of Passover but as the weather warms up we are all looking to lighten up our food. Gravitate towards power packed veggie and fruit versions with a solid protein and you are good to go.  The recipes in this article for Salads That Eat Like A Meal are not K for P, but many can be adapted to work. 
Here are some great recipes for Pre-Pesach dinners that are totally K for P that you can use this week or even on chol hamoed.
Spinach and Cheddar Frittata with Fries
Eggplant Omelette
Speedy Coq au Vin
Baked Oniony Chicken
Leek and Mushroom Chicken with Herbed Spaghetti Squash
Chicken Cacciatore
Italian Tomato Salad
Roasted Sweet Vegetables in Spicy Cinnamon Cider
Quinoa with Fried Onions and Chestnuts