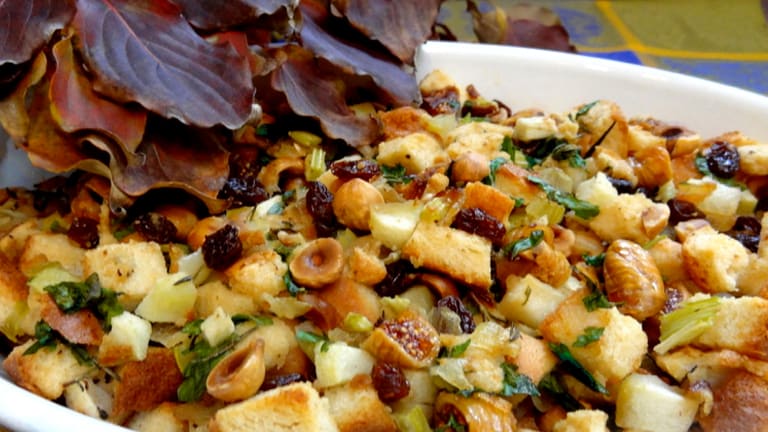 The Most Flavor Packed, Easiest Thansgiving Recipes
Editor's Note: When cooking for Thanksgiving, most home cooks go for the tried and true versions of recipes that they can rely on for taste and comfort. Here are some innovative versions of your favorite recipes, that add a bit more flavor for your taste buds to enjoy this holiday. But don't be discouraged- these recipes are easy to make too!
ROASTED SALMON WITH ORANGE MARMALADE, MUSTARD AND DILL
Salmon recipes are so incredibly easy to vary because even though salmon has a distinctive taste, it is also very accommodating. I change the seasonings and other flavor enhancers to keep this fish, which we eat often, from becoming boring. Just a few ingredients make all the difference. 
MORE: Cook Thanksgiving in 1 Hour
This Pumpkin Spice Cake is a perfect dessert for Thanksgiving dinner – a change of pace from pie but with all the seasonal ingredients. Also, it's not heavy. And you can make it a few days ahead. And it serves a lot of people. And you can freeze it! Beyond Thanksgiving? It's a great breakfast bread or lunch – smeared with some cream cheese. Or serve it for dessert, plain or with poached fruit, sorbet or ice cream.  
MORE: Non-Dairy Thanksgiving Desserts
TURKEY BREAST, SOUTHWEST STYLE
Back in the day there was no such thing as "turkey parts." You had to buy a whole turkey and that was that, so we only got to eat it on Thanksgiving and Passover. I was so thrilled when parts became available to buy separately because I love turkey and fortunately so does everyone in my family. Turkey breast cuts nicely, looks good and is mild enough for bold seasonings like chili and cumin – BUT — you can use turkey thighs if you prefer for this recipe. I also sometimes include a wing or two in the roasting pan.
MORE: Turkey Roasting Guide
BREAD STUFFING WITH FIGS AND HAZELNUTS
Every Thanksgiving I make two stuffings, one tried-and-true, plus another new one. A couple of years ago I bought some fabulous hazelnuts and decided to add them to my basic bread stuffing. But then I figured I should also include dried fruit, which give a lovely, sweet balance to the woodsy-flavored nuts. And this Bread Stuffing with Figs and Hazelnuts was the result – everyone declared it a winner. So now it is one of the tried-and-trues.  
MORE: Favorite Turkey and Stuffing Recipes
Want stories like this delivered right to your inbox? Sign up now for our Joy of Kosher weekly newsletter.