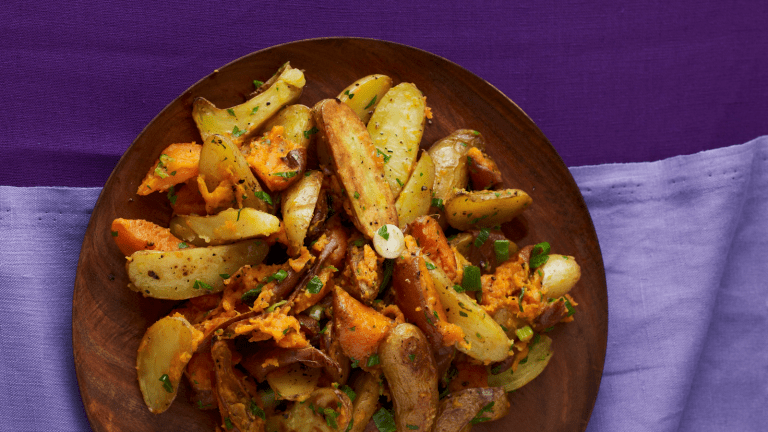 The Salad Course - 4 New Recipes
I'm big into salads. Super salads. Some people go crazy with dessert buffets, but I let out all my creativity in creating my signature salad course. And why not? Salad is always the first thing to go, and guests don't feel guilty eating it (but they hate you when you make them taste all the desserts!).
Anything can be called a salad nowadays, and it doesn't have to start with lettuce. This Purim, I'm including these four new favorites on my table. You'll love 'em and no one can accuse you of the same 'ol salad tricks.
You don't usually serve potato salad because it looks like mush, right? I agree, but here's the solution! Potato salad goes upscale with this very elegant version. Fingerlings are small, funny-shaped potatoes, but still manage to look exquisite. They're tasty and the skin is as soft and
delicious as the tender flesh.
Don't be scared off by the curry and turmeric—just a pinch adds a mild flavor that perfectly complements the cauliflower and chickpeas. It's light and refreshing with a pop of sweet from the raisins. You can use frozen thawed cauliflower florets. You'll need about 3 cups.
My latest favorite! I love how the flavors in cabbage salad get even better the next day—if only there would be leftovers.  Add some brown sugar to the dressing and honey roasted peanuts on top if you want a slightly sweet version.
You can save time and use a high quality canned salmon in this salad.
Let me know how you make your favorite new wave salad in the comments below.