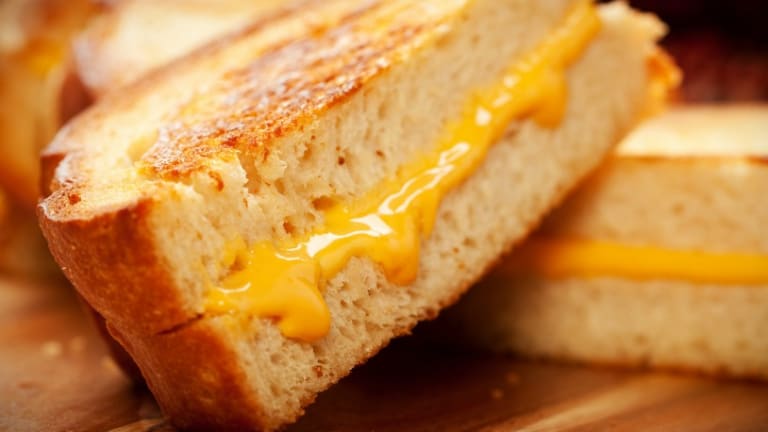 How To Serve Your Own Grilled Cheese Bar
First off, I want to make one thing very clear: Nothing beats white bread with American cheese and ketchup, slowly panfried in a pan with butter. The bread takes on a golden brown color and the cheese melts together with the sweet acidic ketchup and forms the perfect bite. But...
Unfortunately for me, I can't really put that sandwich on our tasting menu (our customers expect something a bit more glamorous) so we had to think about grilled cheese a bit out of the box, and came up with the famous 'Epic Bites Grilled Cheese Bar.' This is the ultimate grilled cheese experience and popular party menu.
There are hundreds of variations you can choose from when making grilled cheese, but unlimited varieties can get confusing so we like to offer a choice of 6.
Here are our favorite 6 to help you create the Ultimate Grilled Cheese Bar:
1. The Classic Grilled Cheese is probably my favorite (if it wasn't clear from my first sentence, I like the simple flavors of bread and gooey cheese) and is made with our homemade cheese slice on Sourdough Pullman. A Pullman looks  like an ordinary loaf of white bread, but since it's made with sourdough it has an elevated flavor.
2. Wild Mushroom Grilled Cheese (AKA Expensive) is the most popular sandwich at our events. This sandwich starts with our Mushroom Conserva which is a blend of local wild mushrooms (maitake, chantrelles, hedgehogs) and more conventional types (crimini, white button) that are slowly cooked in oil with loads of fresh herbs and garlic, then acidulated with vinegar and allowed to cool. This condiment is great on everything and is a staple in our kitchen.
More: 2 Grilled Cheese Recipes Including Classic and Light
3. Fig Jam and Goat Cheese Grilled Sandwich is the perfect "no-cow" sandwich (as we call it here at Epic Bites Catering). You may never have thought to make your own fig jam, but this recipe is very easy and tastes amazing. The smooth goat cheese and crusty bread (of your choice of course) pair perfectly with the homemade jam. You may want to double or even triple the jam recipe. Yes, it's really that good!
4. Smoked Ricotta and Red Pepper Mostarda With Fresh Mozzarella Grilled Cheese is the specialty sandwich I try to get as many people as possible to try. It's the perfect combination of sweet, salty, smoky, and savory. We cold-smoke ricotta (or you can cheat and add some smoked salt to it, REAL SMOKED SALT) then layer it on Ciabatta (or focaccia) with fresh mozzarella and a healthy dose of Red Pepper Mostarda.
5. Avocado and Sweet Thai Chilli Grilled Cheese is a surprising combination of avocado, cheddar and sweet Thai chilli sauce. The sweet Thai chilli sauce is smeared on the bread and adds a sweet tangy taste to the sandwich. When the cheese melts and the avocado heats up the delicious combination of flavors truly blooms in your mouth.
More: Grilled Cheese Gadgets
6. The final grilled sandwich is our Grilled Vegetables With Pesto Sandwich, which is our vegan specialty. You can use any vegetables that you like to grill. Be creative! We usually use zucchini and eggplant, but branch out to asparagus, peppers or even carrots.
A few more tips:
1. Types of bread - We used a combination of baguettes (best for pesto grilled vegetables), basic white (avocado/cheddar/chili), and rye bread (most versatile) for our grilled cheese.
2. The secret weapon - The secret to a crispy grilled cheese is to forgo the butter and oil and use mayo instead. Mayo is an emulsified fat so it tends to give you a nice crust without getting greasy. Apply generously to the bread.
3. The equipment - Don't have a $500 Panini grill? Use a sauté pan over medium heat or an affordable grilled cheese press.
This article was written by Chef Isaac Bernstein.
Originally published in JOY of KOSHER with Jamie Geller Magazine Shavuot 2014 SUBSCRIBE NOW
Want stories like this delivered right to your inbox? Sign up now for our *free* JOY of KOSHER Newsletter.