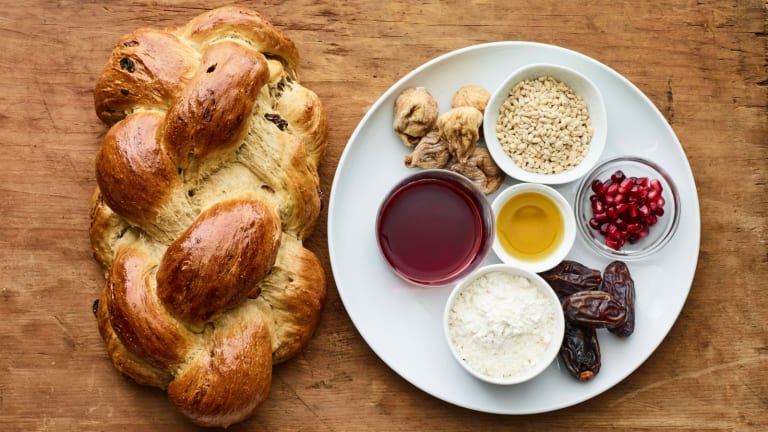 Tu Bishvat Shabbat Menu
This week in addition to Shabbat we are celebrating Tu Bishvat.  So for our Shabbat menu we start with a special challah infused with 7 species of Israel, check out how we get all of them in there.  In this week's Parsha time is running out. Pharaoh and his army are chasing after the Israelites and they stop at the edge of the Red Sea. There is no place left to go. After witnessing the miraculous signs and wonders that brought Egypt to its knees, fear and doubt begin to consume the former slaves. After Hashem chastises Moses for timidity in the face of adversity, Moses bravely raises his hands. The waters split and we cross a free people, while Pharaoh and his army drown in the sea. 
Try this amazing spiritually significant challah for your Tu Bishvat Shabbat meal.  Fruity, nutty and completely unique. 
This classic French dish consists of vegetables slowly braised in white wine with olive oil and herbs. It makes a comforting and extremely satisfying vegan main or side dish for poultry or fish.
ROASTED LEMON CORNISH GAME HENS
I love the fresh lemon flavor on a roast chicken.  Cornish game hens make this super festive to celebrate this double holiday, but feel free to use chicken pieces for this recipe, 
CREAMY MASHED TURNIPS AND POTATOES
Serve these creamy mashed potatoes using non dairy milk and vegan butter to keep them parve and serve along side this elegant shabbat meal. 
BANANA SPLIT WITH CHOCOLATE AND SPICED ALMONDS
This simple dessert reminds of the splitting of the dead sea from the parsha.  Keep your chocolate sauce warm on top a low hot plate until ready to serve for dessert. 
For more menus for Shabbat Beshalach click here.