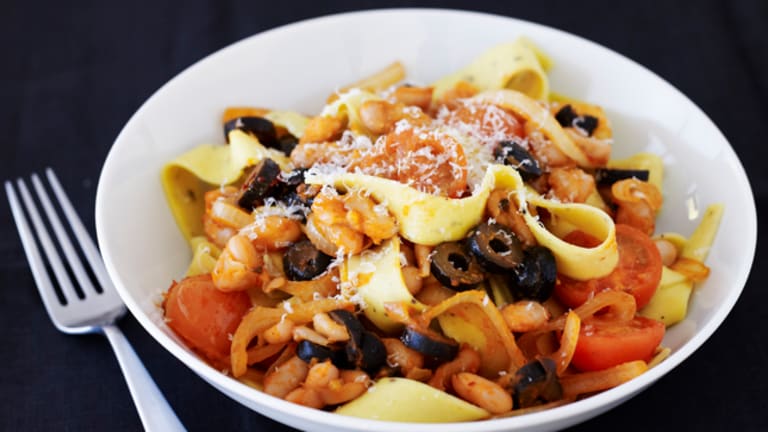 Tu B'Shevat Vegetarian Celebration Menu
One week from now is the holiday of Tu B'Shevat, always falling sometime between mid January and mid-February.  For many years in my life this holiday went unnoticed.  Of course, I remember the celebrations in school with the hard to chew boxer that you either loved or hated and the annual planting of trees (I grew up in Florida, so we could plant this time of year and not freeze to death), but in the years between my being in school and having kids, I will admit I didn't do much celebrating.  Now, I realize that there are many ways we can go about celebrating this holiday, whether it be the smallest gesture of making a seven species granola or going all out with a Tu B'shevat Seder.
Tu B'Shevat literally means the 15th day of the Hebrew month of Shevat.  It is the birthday of the trees in Israel.  The day that the trees begin their new fruit-bearing cycle.  So we celebrate by eating the fruits of the trees.  Really any fruit counts, but it is tradition to eat the kinds that are mentioned in the Torah when praising the bounty of Israel: grapes, figs, pomegranates, olives, and dates.  Some go even further and like to include the full seven species of Israel which adds wheat and barley to the fruits.   There are also many kabbalistic rituals around this holiday which have become more popular recently and is the reason many people hold a seder, get a guide to making your own seder from Hazon, here.
Here is a menu featuring all the traditional fruits, since this holiday celebrates nature and the fruit of the land, I think it is fitting to keep the meal meat-free.  Enjoy this vegetarian Tu B'Shevat menu.
ALMOND CRUSTED CHEVRE AND GRAPE 'TRUFFLES'
Start with this almond-crusted appetizer and enjoy the crunchy, creamy and sweet textures and flavors.  It is nice to set this meal apart from every day with a fun treat, could also be your kids after school snack.
Enjoy your pomegranate in a colorful salad.  Paired with hearts of palm and bright spinach leaves, the pomegranate seeds just pop with juicy goodness.
PAPPARDELLE WITH WHITE BEANS AND OLIVES
This hearty pasta dish with olives and beans will keep you warm and full for a Tu B'Shevat celebration on a cold winter day.
Broccoli Rabe is tamed with the sweetness of figs in this recipe.  Enjoy with crunchy almonds and a sprinkling of cheese. There is a reason this meal is dairy.
BRIOCHE AND GRAPE BREAD PUDDING
Get some fancy brioche or use your leftover challah to make this scrumptious bread pudding.  The leftovers can be served for breakfast.
We can have one more dessert when it is as easy as these dates.  Plus almonds and dates are good for you.
What are you planning for this Tu B'Shevat?  Let us know in the comments below.