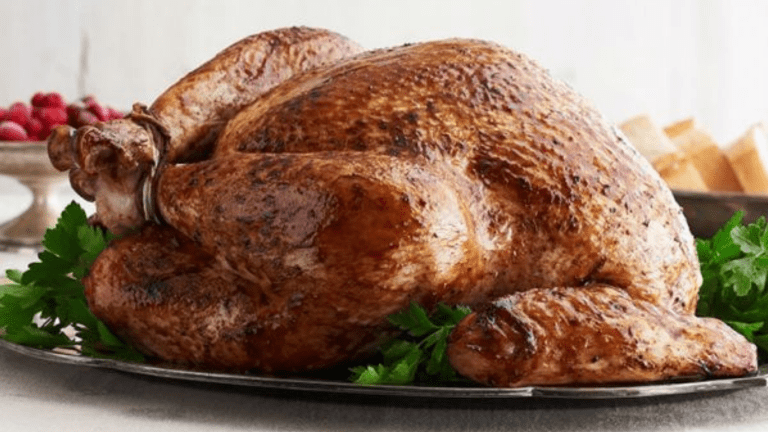 Turn Thanksgiving Leftovers Into a Friday Night Feast
A few years ago, I received a copy of Happy Holidays from the Diva of Do-Ahead (Harvard Common Press, 2006) by Diane Phillips. In her chapter entitled, "The Diva's Famous Do-Ahead Thanksgiving Dinner," Phillips advises starting Thanksgiving preparations three months in advance.
Many of our readers who prepare weekly Friday night dinner are probably laughing at the thought of even thinking about Thanksgiving before Rosh Hashanah. If written by a Jewish cook, not only would the planning begin well after Succos but the really useful information would be how to turn Thanksgiving leftovers into Shabbat dinner.
After all, once the turkey is carved and the pumpkin pie is finished, the big question is, "Mom, what are you making for Shabbat?"
To save you time and money, here are 18 easy ways to create entirely new dishes from typical Thanksgiving leftovers.
Cranberry Sauce
With its jeweled hue and distinctive flavor, cranberry sauce adds a beautiful touch to any dish.
1. Take brownies to a new level by adding ½ cup of leftover cranberry sauce to the batter.
2. Make a luscious Almond-Cranberry Cake by adding almond extract to a traditional yellow or white cake batter. Pour a third of the batter in a greased bunt pan, followed by a layer of cranberry sauce. Continue with another layer of batter, followed by more cranberry sauce. Repeat with the final third of the batter and top with cranberry sauce.
3. Leftover cranberry sauce pairs beautifully with roasted acorn squash. Cut acorn squash in half horizontally. Place on a foiled-covered baking tray and roast at 400°F for about 25 minutes. When the squash can be pierced with a fork, remove from the oven and scoop out the inner seeds. Before serving, fill the squash cavities with cranberry sauce.
4. To make sweet potato-cranberry crumble, slice leftover roasted sweet potatoes and toss with the cranberry sauce. Transfer to a casserole dish or pan. Alternatively, you can place the sliced sweet potatoes in a pan and top with the cranberry sauce.
For the topping: In a small bowl, combine oats, flour, margarine, brown sugar and cinnamon. Use your fingers or a fork to make small crumbs. Sprinkle on top of the sweet potato-cranberry mixture. Bake at 350 degrees F for about 30 minutes.
Turkey
From soups to salads and casseroles to sandwiches, this Thanksgiving staple easily takes on a new look.
5. Leftover turkey stars in a Mexican inspired turkey-tortilla soup. Cut corn tortillas into strips. Coat a large skillet with oil and cook the tortilla strips in batches until crisp. In a large pot, combine bottled salsa with stock. Bring to a boil and add cooked turkey, sliced zucchini and frozen or canned corn kernels. Heat through and serve in bowls topped with tortilla strips, lime wedges and cilantro.
6. To avoid throwing out the "shell" of the carved turkey, use leftover turkey and the frame to make a hearty turkey vegetable soup. Place the frame in a big pot and cover with water or stock; add seasonings and aromatics. Bring to a boil and simmer for about an hour. Remove the frame, and add a can of diced tomatoes, a can of kidney beans, a cup or two of diced fresh or frozen vegetables, a cup of pasta and leftover turkey meat. Simmer until the vegetables and pasta are tender.
7. Instead of a garden salad, combine greens, diced vegetables and croutons with leftover turkey to make a chef salad. Top with a non-dairy creamy dressing by combining bottled Italian dressing with mayonnaise.
8. For a gourmet salad, toss baby spinach, red onion, sliced jicama and cucumbers with leftover turkey. For cranberry vinaigrette, blend leftover cranberry sauce with cider vinegar, olive oil, dried sage or tarragon, salt and pepper.
9. Substitute leftover turkey for cooked chicken in any chicken salad recipe.
10. For a quick entrée, make turkey-broccoli casserole by combining leftover turkey with cooked wide egg noodles, frozen chopped broccoli, a can of condensed cream of mushroom soup (parve), and seasonings. Pour into a casserole dish and bake in a 350° degree oven for about 30 minutes, or until heated through.
Mashed Sweet Potatoes or Creamy Butternut Squash
Sweet and creamy, mashed sweet potatoes or squash make a sweet Thanksgiving side dish—and a useful ingredient for Shabbat dinner.
11. Look at these leftovers as a kugel-in-waiting. Combine the already pureed vegetables with eggs and a little bit of flour. Pour into a casserole dish or pan, and bake at 350 degrees F until set, following the same method as for a traditional kugel.
12. Make a quick soup by combining the pureed sweet potatoes or squash with stock and simmer for 30 minutes so the flavors have a chance to blend.
Roasted Potatoes
Roasted potatoes become even more versatile when turned into a distinctly different side dish.
13. To make smashed rosemary potatoes, coat a skillet with oil and when hot, sauté fresh rosemary for 1 minute. Add the potatoes and peeled roasted garlic cloves. With a wooden spoon or heavy spatula, smash them in the pan. Continue turning the potatoes to expose their flesh to the flavored oil, and to prevent them from sticking. Serve warm.
Roasted Root Vegetables
Whatever combination of root vegetables you use, they can easily be transformed into a pilaf or soup.
14. To make a root vegetable pilaf, dice the leftover vegetables into small pieces and mixed with freshly cooked rice, barley or quinoa. Before serving, reheat and sprinkle with chopped fresh parsley.
15. For soup, puree the leftover roots with broth and heat in a heavy pot, simmering for about 30 minutes so the flavors have a chance to blend.
Green Beans
Whether sautéed with onions and mushrooms, or served with almonds and garlic, turn the leftovers into a comforting casserole.
16. Pulse the green beans in a food processor until coarsely chopped. Mix with a can of condensed cream of mushroom soup (parve), sliced fresh mushrooms, diced onions, and salt and pepper. Pour into an oven-to-table casserole and top with French fried onions. Bake in a 350 degree F oven for about 30 minutes.
Wild Rice
Never let wild rice—or any grain—go to waste.
17. Make a fruity rice salad from yesterday's pilaf. Combine the rice with dried cranberries, toasted pecans or cashews, diced fresh peppers, and store-bought fruity vinaigrette.
Apple Pie
On the rare chance you have leftovers…
18. Make individual hot apple pie sundaes by warming the pie and gently breaking it up with a spoon. Place a few heaping spoonfuls of the broken apple pie in the bottom of wide-mouthed goblets. Top with a spoonful of parve vanilla ice cream. Place a few more heaping spoonfuls of the pie on top of the ice cream, and finish with a generous scoop of ice cream. Sprinkle with cinnamon.
How do you use your leftovers?