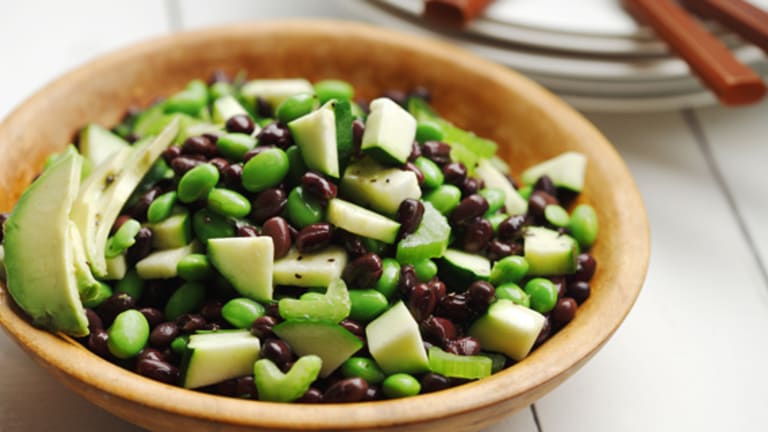 Use It Up Shabbat Menu
Let's be honest, the detailed descriptions of sacrificial offerings that begin this week's parsha don't exactly put you in the mood for dinner. In fact, I wouldn't be surprised if you started thinking of becoming a vegetarian. But for this week's Shabbat menu, I want to focus on one of the meal offerings. "When you bring a meal offering of the first grains to Hashem, you shall bring your first grain meal offering [from barley], as soon as it ripens." It just so happens I love barley. It is fiber-rich, contains important vitamins and minerals and all whole grain. Plus, it can hold up well to reheating the next day or can be enjoyed right out of the fridge, which makes it a favorite grain for my Shabbat afternoon meals.
BLACK BEAN, EDAMAME, AND AVOCADO SALAD
Get your bean fix in while you still can.  The leftovers are perfect lunch foods too, so you won't have to worry about using it all up. 
Stick with tomatoes and hearts of palm in place of black beans and edamame if you are already kosher for Passover and don't eat kitniyot. 
This chicken casserole with barley and apples is easy to prep and stays warm well for whenever you want to serve.  
If you have already turned over your kitchen for Passover, sub the barley with quinoa. 
The chicken and barley are just calling for some leafy greens and I love kale, but you can sub with your favorite greens. 
Use up your flour in this chocolate cake. If you already kashered for Pesach, check out our 6 Chocolatey Desserts made with olive oil.