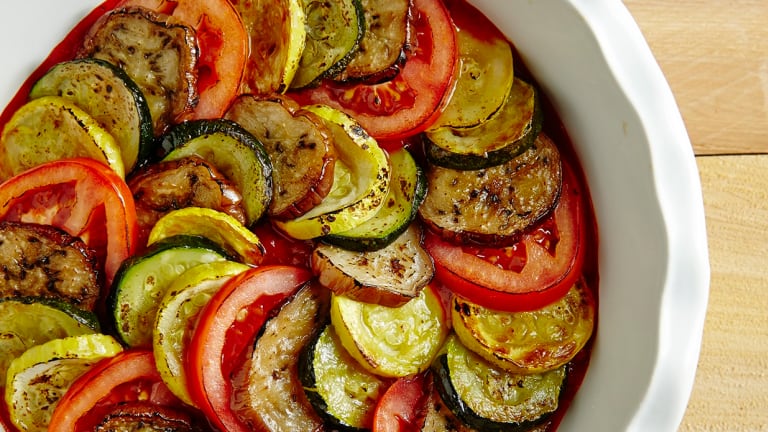 2 Days Until Passover: Veggies You Can Make Ahead
Growing up, my family's Pesach table seemed to have the same over-arching color and feel: A veritable sea of beige matzah meal, potatoes, turkey and all-things tan. It was not until I began making Pesach myself that I understood the balabusta's challenges in providing enough vegetable options amidst so many other necessary holiday preparations. Specifically, dishes that hold up and reheat well when done in advance, that yield a good amount or can easily be doubled, and of course that complement the meal either with flavor or color. Broccoli is hard to do in quantity and can easily become a pile of mush when reheated. Potatoes have become an infamous go-to starch over the generations but can become stiff and gluey. Each in their own way, the following recipes are an attempt to tackle this challenge. I hope they will enhance your holiday meals and menus.
BRAISED COLLARD GREENS WITH "POT LIQUOR"
In the South, braising tough dark greens like collard greens with a small amount of liquid results in what's known as "potlikker"- the flavorful broth left over from cooking. Besides enhancing the flavor of just about anything you put it on or soak it up with, pot liquor is also chock full of nutrients like vitamin C, vitamin K, and iron that were released during cooking.  
MORE: Salads You Must Have At Your Passover Seder
Traditionally, each component of ratatouille is prepared independently, allowing each ingredient to cook for the proper time, and then assembled to cook briefly together in a homemade tomato sauce – a real labor of love! Consistent with this method, this recipe pre-roasts the eggplant and peppers separately, eliminating clean-up time from multiple pans and creating a beautiful presentation  
MORE: 4 Passover Pack N Go Ideas
Mixing other root vegetables like kohlrabi with potato is a wonderful alternative to hohum mashed potatoes, allowing a more complex flavor to come through. It also reduces the starch content, yielding much more forgiving results when reheating – no gluey potatoes!   
MORE: Vegan Mains Perfect For Passover
Recipe published in JOY of KOSHER with Jamie Geller Magazine Spring 2015 SUBSCRIBE NOW
Want stories like this delivered right to your inbox? Sign up now for our *free* JOY of KOSHER Newsletter.