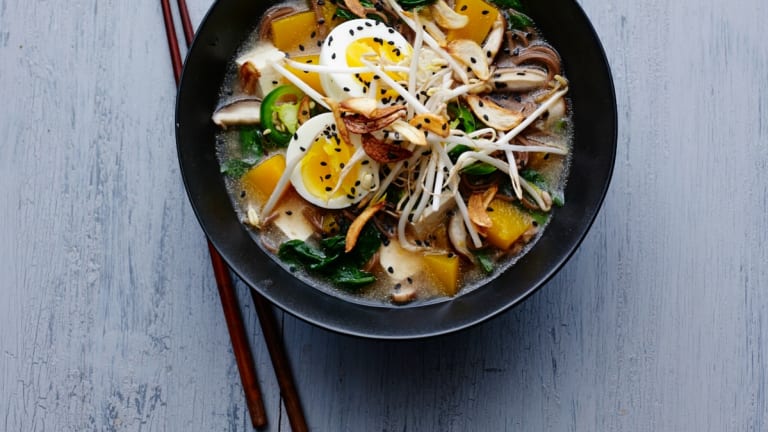 Warm Me Up Sukkot Menu
I just came back from Rosh Hashanah in Jerusalem.  It was my third year celebrating in the holy land and the coolest one yet.  Both in temperature and in spirit.  We have figure out how to do it right and even with three days , it was wonderful. 
Jerusalem is known for cooler nights, but I will never forget the first year we were there and there was a crazy heat wave because we accidentally booked an apartment without any air conditioning!!!  It was not the most pleasant holiday, but we did make the best of it and learned our lesson. 
Based on the weather so far I believe Sukkot might be a cold one for those in Jerusalem and also the Northeast, so here is my comforting, warming menu perfect for Sukkot this year. 
You can make this soup as a hearty filling vegetarian dinner on its own or simplify it a bit, leaving out the eggs and tofu, for a lighter, vegetable filled start to your meal. 
SLOW COOKER SESAME CHICKEN with Snow Peas
Take advantage of your slow cooker this holiday.  Set this chicken up early in the day, then after it is done, reuse it for your next day lunch with this Black Bean Soup. 
You can just serve a simple rice on the side, but since there are so many meals this holiday season I like to lighten it up subbing cauliflower for the rice and add some veggies so I can have leftovers as a meal. 
CHOCOLATE LAVA CAKE WITH ALMOND BUTTER
My favorite dessert on Yom Tov is fresh, hot, Chocolate Souffle.  You can prep everything ahead and then just bake it up fresh before serving, but it only works if you are able to have a very hot oven, otherwise stick to the Lava Cake.