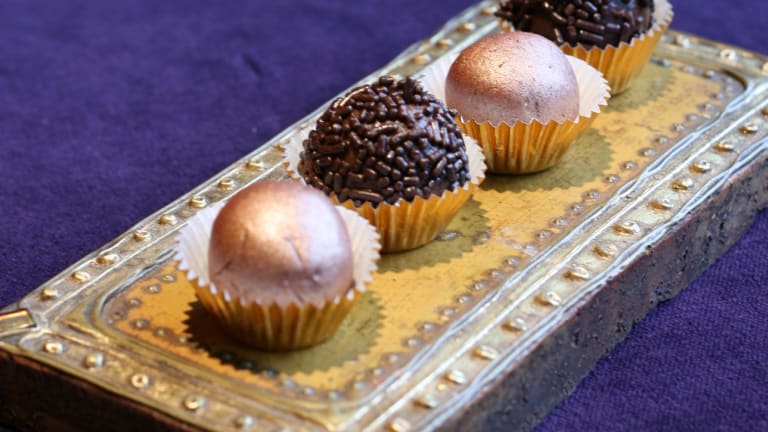 5 Days Until Passover: Welcome Your Guests With Elegant Truffles
When the guests arrive, they may need an energy boost after their travels: It's proper custom for many hosts to offer something to drink and eat. Especially before a Passover seder or any seudah, when the aromas of the upcoming meal are taunting everyone from the kitchen, it's a good idea to have a platter on hand of snacks. Persian food expert Reyna Simnegar has the solution with this variety of welcoming treats that guests can enjoy the moment they walk in the door. 
These elegantly delicious yet healthy bite-sized truffles are the perfect snack to pass around as you offer your guests a hot drink. You can artfully arrange them on a decorative plate with additional nuts and dried fruits. Make sure to serve with toothpicks or in fancy cupcake wrappers for easy grabbing. 
MORE: A Perfectly Persian Pesach
IRRESISTIBLE ALMOND BUTTER BUCKEYES
These Irresistible Almond Butter Buckeyes are sophisticated chocolate covered nut balls. So easy to make, and so decadent.    
MORE: Chocolate Truffles, 4 Variations
These easy raw vegan Cran-Nut Energy Truffles will satisfy your sweet tooth and give you an energy boost at the same time.
Optional: Place a whole cranberry inside the truffle and reshape as a heart or as desired.    
MORE: Delicious Parve Passover Desserts
These elegant Chocolate Energy Truffles are a no-bake healthy snack that doubles as an impressive dessert! Arrange them on a fancy plate to welcome incoming guests, or make a batch and munch on them during the week for an energy boost.
Optional: Place a golden raisin or a mulberry inside the truffles and reshape as a sphere. Dip truffles into gold decorating dust for a whimsical look.  
MORE: 20 Passover Dessert Recipes
Want stories like this delivered right to your inbox? Sign up now for our *free* JOY of KOSHER Newsletter.