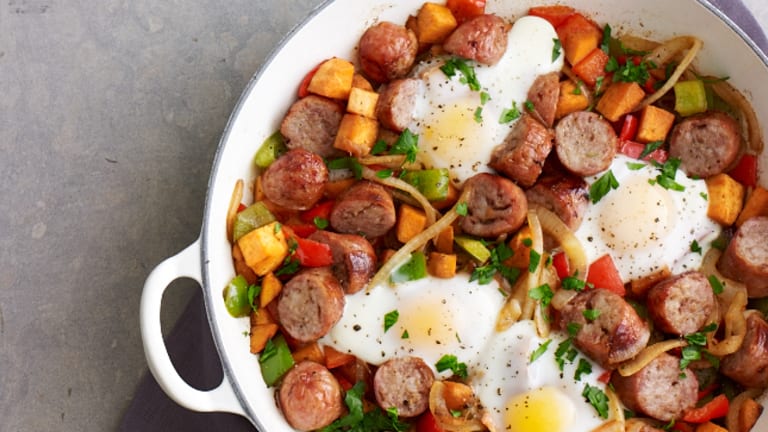 What Dad Really Wants To Eat on Father's Day
Father's Day is relatively new for me. Being raised by a capable, dedicated, and loving single mother, it wasn't until I had a son of my own that the third Sunday in June was anything other than ordinary. Now, Father's Day is one of the only days of the year that I am blessed with the gift of sleeping late. Or at least trying to, while I pretend I can't hear the kids fighting over who wants to whisk the eggs or open the fridge first!
The beautiful thing about Father's Day is that we get to spend the day together as a family. While we try to do that most weekends, there's a sacred notion that accompanies both Mother's Day and Father's Day and we all focus on being a family, starting with breakfast.
As the kids get older, I'll be asking them to bookmark this wonderful roundup of sausage recipes (perhaps guiding them towards a kosher twist on a English Breakfast) but for now, nothing makes them happier than starting the day making pancakes. 
Not only is this recipe perfect for kids of any age to to tackle as demonstrated by my 6, 3 and 2 year old children. It's also the perfect way to use up bananas that, you know, need to be used up that morning. Simply mash one banana and combine with two eggs to create a batter.
To add a little variety, you could add chocolate chips, fresh or frozen berries, a splash of vanilla or a touch of baking power for a little more fluff, but all of these additions are completely optional. 
Cook these on a hot griddle as you would traditional pancakes, flipping when you see the batter bubbling on top. Serve with a drizzle of maple syrup, honey, vanilla ice cream or perhaps homemade Coconut "Bacon."
If you're more of a meat eater or seeking a paleo start to the day, one of my favorite ways to start the day is with this Baked Eggs with Sausage and Sweet Potato Hash with a bloody mary and a side of Garlic Stuffed Figs.   
BAKED EGGS WITH SAUSAGE & SWEET POTATO HASH
If breakfast isn't your thing, or you are honoring the time-tested stereotype of a Father's Day BBQ, make sure Sweet and Sour Accordion Hot Dogs is on your menu (or my Bourbon-Free Cranberry Salami that was a major hit at our own Father's Day BBQ two years ago).
SWEET AND SOUR "ACCORDION" HOT DOGS
Make your BBQ memorable with the perfect grilled steaks. I like to marinate meat for a couple of hours before grilling. Chop up some fresh parsley, garlic, cilantro and mix with half a cup of olive oil. Dry your steaks with a paper towel and lightly season with salt and pepper (in my humble opinion, not salting kosher meat is a myth and I always season meat with salt and pepper!). Trim any excess fat off the steak to prevent the grill from flaring up later on. Then pour your marinade over the steaks and put them in the fridge for 2- 24 hours.
MORE: How to Grill the Perfect Steak
Thirty minutes before you light up the grill, take the meat out of the fridge so it can come to room temperature. Bring your grill up to a high heat and once the grill is hot, place the meat directly on the hottest part of the grill. Close the lid and allow them to cook for four of five minutes. When you flip the meat over, you should have beautiful grill marks on the steak. Grill for another 3-5 minutes for rare steaks, 5-7 minutes for medium rare. No one wants well done steak on Father's Day, so please don't over-cook the meat.
Remove your steak from the grill and set on a cutting board for at least 5 minutes to let it rest. Do not skip this step. If you've ever cut into a piece of meat and the juices have run out, the meat hasn't been allowed to rest long enough and the flavor has run out all over the plate. As the meat cools down and the muscles relax, the meat absorbs the those juices and with it, all the flavor.
MORE: Father's Day Top Grilling Recipes
Serve with some of Dad's favorite side dishes, or if you've invited my family to your BBQ, we love to share our steak with Brussels Sprouts with Beef Bacon, Israeli Salad, and Grilled Pineapple Salsa.
BRUSSELS SPROUTS WITH BEEF BACON
And if meat isn't your thing, Spicy Tuna Salad or Salmon Ceviche with Pita Chips and cocktails make for an elegant evening at home on the patio.
Happy Father's Day!