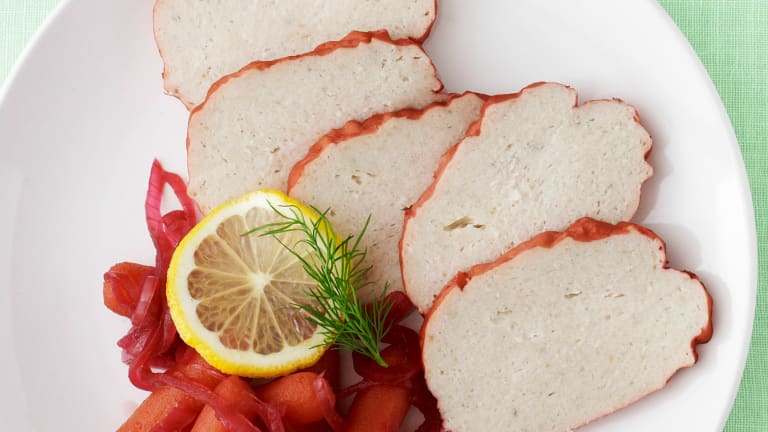 What Do I Cook for Rosh Hashanah?
Everyone always likes to know what I cook for a holiday.  You may think I slave for weeks and serve a fancy spread, and while I do take pride in the presentation, it's usually all very last minute.  
If it's not clear by now that I don't do anything complex, then I haven't been communicating. I know how hard it is to cook with young kids around and a full-time job. My go-to Rosh Hashanah meal is usually based on simanim. For ease of prep and taste appeal, I don't shy away from Classic Gefilte Fish, but But if you want to raise the bar without raising your stress level, try my Spiced Gefilte Fish – it's so attractive, I put it on the cover of my book Quick & Kosher Recipes from the Bride Who Knew Nothing.
I serve it with Sweet Carrot Salad on the side. 
An even easier, festive version is Pink Rimmed Gefilte Fish followed by Un-stuffed Cabbage Soup. 
It's so sweet (for a sweet, new year!) and so good and so easy! My guests expect this dish every Rosh Hashanah and I would never disappoint them.
The main is Brisket in Wine Sauce (you can throw in a few handfuls of baby carrots for color) or my Brisket with Dates. 
Honey Chicken with Spinach Mushroom Salad.
Potato Kugel Cups as sides. (If you're in a rush and don't feel like filling individual cups, you can always make the kugel in a 9-inch round or square pan.)
Another recipe that is just as easy, but impressive: Cocktail Meatballs over Rice Pilaf or Oven Baked Rice. I serve this on the second night of Yom Yov instead of starting with fish and soup. And for other side ideas, you can go with Carrot Muffins (you can leave out the shredded carrots, if you prefer – no other substitutions needed) or Broccoli and Mushroom Pie. (I have taken to replacing the non-dairy creamer in that recipe with plain unsweetened soy milk).
Each recipe takes less than 15 minutes to prepare prior to cooking time. (Of course, while these dishes cook, you can do something else!) Let me know which ones you've tried, and how they worked out for you. Happy Sweet New Year!