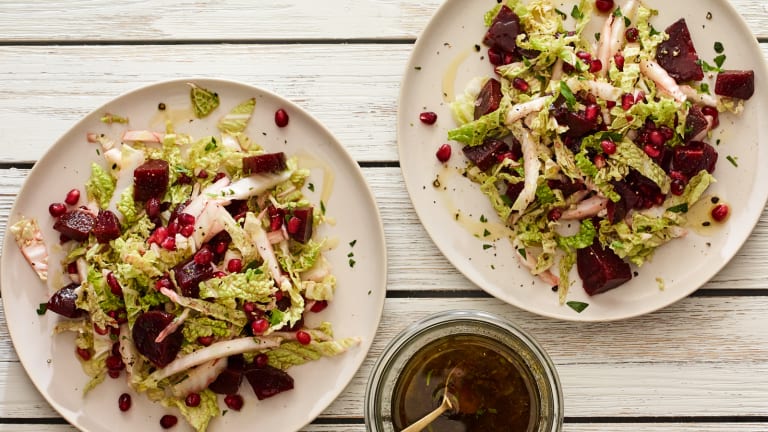 Following a Whole30 diet requires very strict adherence to eating no processed foods, no dairy, no legumes and absolutely no sugar whatsoever. Shabbat is one of the most challenging times to keep to any nutrition plan and even more difficult for those following Whole 30. The following menu will appeal to everyone and follows the Whole 30 meal plan. 
Whole 30 involves a full thirty days of eating non processed foods and then slowly introducing specific foods back into ones diet to see how each food impacts your basic functions. Whole 30 has been praised for assisting people in lowering blood pressure, blood sugar levels and increasing energy levels. 
Related: Low Carb Low Sugar Shabbat Lunch Menu 
Delicate and elegant, this Simple Poached Salmon technique yields juicy salmon that can be served warm or at room temperature.  
Short on time? Use store bought ready-cooked beets. 
The classic Kosher food and healer of all things, Chicken Soup nourishes body and soul.  
RED ROAST CHICKEN WITH LEMON, GARLIC & VEGETABLES
Using spices and healthy fats gives tremendous flavor to Whole 30 recipes. This juicy chicken highlights how good, fresh unprocessed ingredients can taste. 
From a hearty weekday meal to an elegant starter. This turkey can multi-task!  
Make sure to use Whole 30 approved mayo. 
In place of the bubbly moscato, use bubbly non-alcoholic apple cider or juice to make this recipe compliant with the Whole 30 plan.